Fiji seems unlikely to resume international air travel soon, especially as its national carrier cancelled scheduled international passenger service through the end of September.
"This is due to ongoing border closures and travel restrictions as a consequence of the Covid-19 pandemic," Fiji Airways said in a 12 August statement.
The airline first announced on 20 March that it was suspending all international passenger flights until the end of May, except for twice-weekly services between Singapore and Nadi.
Later, it said on 27 May that all international flights will remain grounded through the end of July, with subsequent monthly extensions.
Meanwhile, Fiji's Nadi International airport has remained closed until further notice.
In May, George Faktaufon, secretary general of the Association of South Pacific Airlines, told Radio New Zealand that many Pacific carriers are dependent on Australia and New Zealand to open up their borders.
"It's very hard to plan for something that you are not quite sure when it's going to happen, because we have always planned for something that is certain, but the plan is depending on when Australia and New Zealand are opening up," Faktaufon told the broadcaster.
Three months on, it appears unlikely the trans-Tasman bubble will materialise.
Australia's Victoria state has been grappling with the re-emergence of Covid-19, and more recently, New Zealand. On 12 August, the Auckland region entered "Covid-19 Alert Level 3" for at least three days, while the rest of New Zealand moved into "Alert Level 2". Today, this was extended to 26 August, subject to review on 21 August.
This has taken a toll on existing connections between both nations, and Air New Zealand announced on 13 August it is extending a suspension on further bookings to Australia, from 28 August to 24 October, alongside capacity limits.
Cirium fleets data show that for the whole of 2019, about 65% of flights originating in Fiji were headed for domestic destinations, followed by 14% to Australia, 9% to other Pacific Island nations, and 7% to New Zealand.
However, air traffic as a measure is skewed by the fact that nearly all domestic flights in Fiji are operated with smaller, regional aircraft with about 20-70 seats.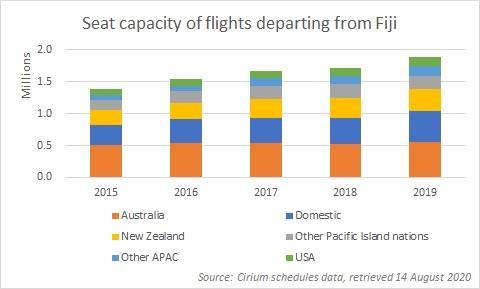 In terms of seat capacity, domestic flights account for 26% of air traffic from Fiji versus 29% to Australia. New Zealand and other Pacific Island nations contribute 18% and 11%, respectively.
This analysis was written by Simin Ngai, Asia Dashboard Editor at Cirium.