German airline start-up Evia Aero is to partner with UK-based Cranfield Aerospace Solutions (CAeS) to bring hydrogen fuel cell-powered air transport services to Northern Europe.
The agreement covers both aircraft operations and the required hydrogen fuelling infrastructure.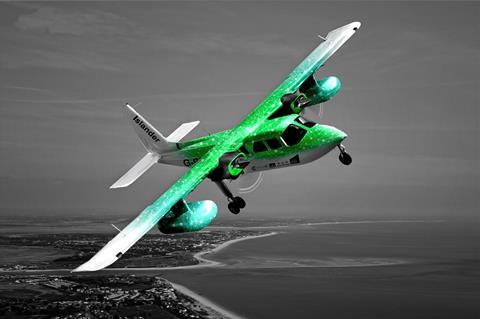 "We are very happy to enter into a collaboration with Cranfield Aerospace Solutions. Sustainable aviation can only be implemented through exchange and teamwork," says Florian Kruse, founder and chief executive of Evia Aero, which was set up with a goal of providing zero-emission sub-regional air services.
CAeS is developing a fuel cell conversion for the nine-seat Britten-Norman BN-2 Islander through the UK-funded Project Fresson initiative. A supplemental type certificate for the modification is scheduled to be available in 2025.
Paul Hutton, CAeS chief executive, says the company, which earlier this year secured investment from HydrogenOne Capital Growth and Safran Corporate Ventures, is "delighted" by the partnership.
Noting that "sub-regional operations will be where zero-emission flight will first enter service", Hutton says the "technology will help redefine regional connectivity and Evia's planned route networks align perfectly with the hydrogen Islander aircraft and its expected performance."
Evia Aero has yet to disclose its planned network, although it has previously indicated an intention to serve up to 15 European destinations from 2026.
CAeS says the pact commits the two parties to work together "applying time to the all important topic of infrastructure, regulations and hydrogen supply by working with Evia Aero's energy and airport partners. It brings together the aircraft and airline into making zero-emission air services a reality in Northern Europe."
However, the company declines to say if Evia Aero has ordered any converted aircraft.
CAeS is working towards a 2023 first flight of the modified Islander (G-HYUK) and is on course to start bench and ground testing this year.
"We've recently passed a number of sub-system and system-level significant design reviews that have validated in detail the technical viability of the system, including the thermal management solution, meaning that elements of the system have been signed off for manufacture," says CAeS.

Dominic Perry is deputy editor of Flight International but also contributes extensively to flightglobal.com. Although specialising in the coverage of the helicopter industry, he has written on most topics in aerospace – be they commercial, defence or business aviation. In addition, there has been an increasing focus on the decarbonisation of the industry and zero-emission flight initiatives.