Ground-handling firm Swissport is set to be taken over by a group of creditors under a €1.9 billion ($2.3 billion) debt-for-equity swap as part of an extensive financial restructuring.
Once the process is completed, seven institutions – a group collectively known as AHG – will control more than 75% of Swissport's equity, unless a third party is identified which might be interested in acquiring the company.
Swissport is currently owned by China's HNA Group but the senior secured creditors taking part in the transaction are primarily US and UK entities.
AHG comprises funds linked to financial institutions SVP Global, Apollo Global Management, TowerBrook Capital Partners, Ares Management, Barclays Bank, Cross Ocean Partners and King Street Capital Management.
These institutions are substantial lenders and debtholders of Swissport.
Swissport payment-in-kind facility lenders as well as certain affiliates of HNA Group will also be participating in the restructuring agreement.
While a process will be initiated to identify any potential third-party bidder, Swissport says that – if none emerges – the senior secured creditors will own "substantially all the equity" in the company, with the AHG institutions holding more than 75%.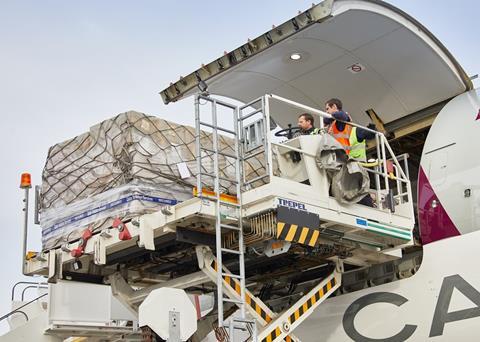 As well as the €1.9 billion debt-to-equity conversion the agreement provides for a new €500 million, four-year debt facility.
This will refinance a €300 million interim facility which Swissport had recently agreed with creditors in order to lift its liquidity.
"[This will] give Swissport the resources to invest into the business, drive operational improvements and to accelerate growth globally," says the company.
Swissport expects the restructuring, which will significantly deleverage its financing, to be completed in late 2020.
Chief executive Eric Born says the binding agreements "secure" the company's long-term future, while chief financial officer Peter Waller says the lower debt and additional €500 million of cash will enable the handler to invest and "accelerate growth" as it recovers from the air transport crisis.
"We expect to see increased outsourcing of ground-handling services by airlines and being able to take volumes from some financially-weaker competitors," adds Waller.
Swissport adds that HNA Group will "share in the value creation" of Swissport, following the restructuring, "contingent on a future exit valuation".
HNA Group took over Swissport in 2016 when it acquired the business from European private equity firm PAI Partners.