European regulators have approved an interior modification for Airbus A320-family jets which enables seats to be converted into cargo-transport facilities, after an accelerated development effort in the wake of the coronavirus crisis.
The cargo seat-bag configuration has been developed by Baltic parts firm Colibri Aero and design specialist J&C Aero and is intended for commercial and humanitarian supply transport.
It comprises a kit for a triple-seat block enabling up to 75kg of cargo to be stored on the seat as well as another 9kg beneath it – a total of more than 250kg for each block.
"The kit can be easily installed within several minutes," says the development team, adding that it is capable of hosting mail, electronics, medical equipment and humanitarian aid.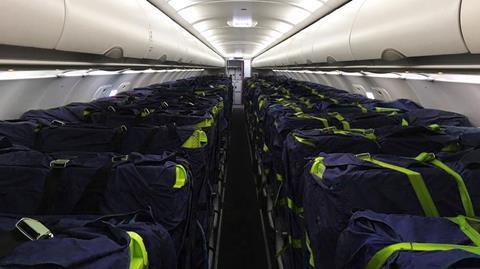 J&C Aero chief commercial office Laurynas Skukauskas says work on the modification commenced last year.
But he says that, with increasing evidence of a developing contagion earlier this year, the team put "additional resources" into the programme in February in order to secure faster certification.
The modification has obtained supplementary type certification from the European Union Aviation Safety Agency.
"Being able to promptly apply temporary modifications for passenger cabins for cargo purposes may allow aircraft operators to increase cargo capacities," says Colibri Aero chief Andrius Norkevicius, pointing out that dormant passenger aircraft are being recruited as freighters to maintain supply lines.