The emerging potential for electric aviation to reduce operational costs and unlock regional air transportation has many industry observers buzzing.
There is also reason for scepticism. Among several logistical and technical hurdles standing in the way of the so-called regional air mobility (RAM) segment, one looms particularly large.
"Battery energy density will need to at least double today's density for the RAM market to meet its full potential," concludes a recent report from management consultancy McKinsey & Company.
In other words, much better battery technology is required for electric-powered short-haul flights to truly take off by the end of this decade.
Richard Wang, founder and chief executive of Cuberg – a California Bay Area-based battery developer – tells FlightGlobal on 12 September that his company is working on a solution that could enable battery-powered regional air travel in the near future.
"I certainly believe so," he says. "If you look at the incumbent battery technologies with lithium ion, typically, at the battery module level, you're at 200 watt hours per kilogram (Wh/kg). At that sort of performance level, what you can get are VTOL [vertical take-off and landing] aircraft that fly maybe 30 or 40 miles, or CTOL [conventional take-off and landing] for regional applications – maybe 100 miles, best case."
That isn't enough range to cover most regional passenger flights. But Cuberg's in-development technology could allow all-electric and hybrid-electric aircraft to fly further.
"What we're developing is roughly a 40% to 50% higher energy at the packaged module level, about 280 to 300 Wh/kg for our first-gen product, an increase that leads to roughly doubling the usable flight range. Then, you're getting upwards of 200 miles, which starts to cover many more segments of regional aviation."
Combined with hybrid-electric powertrains, Wang says, Cuberg's batteries could potentially provide even greater flight ranges.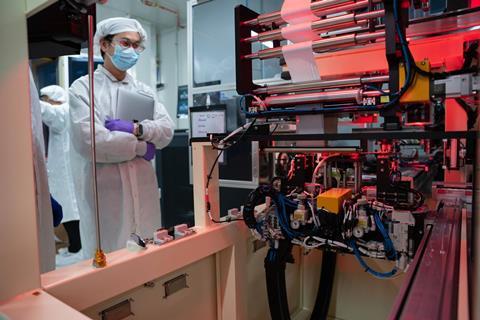 Previously flying somewhat under the radar, Cuberg is now signalling its intentions to be a difference-maker in the electric aviation industry. On 13 September, the start-up disclosed an agreement with French firm Safran Electrical & Power for "technical and commercial cooperation to jointly develop an aviation energy storage system [ESS] for future full electric and hybrid aircraft".
The ESS is designed to combine Cuberg's rechargeable lithium-ion cells, modules and packs, with a Safran-developed high-voltage protection system. Safran will also provide integration and certification expertise, alongside in-service support.
The deal with Safran is not exclusive. Cuberg is also has two contracts with unnamed aviation companies, including one electric vertical take-off and landing (eVTOL) start-up that plans to begin flight-testing in 2024.
"We have already produced first articles and prototypes that we're validating, and then the first flight-test hardware will probably be shipped in [the second quarter] of next year," Wang says.
Wang founded Cuberg in 2015 with the intention of developing "next-gen high-performance battery technologies", he says.
"The core of this is a new lithium metal anode that replaces the traditional graphite anode in the battery cell, along with a very stable, non-flammable electrolyte that stabilises lithium metal," he explains. "This allows us to make a battery that has about 50% more energy per weight compared to the leading lithium ion chemistries in the world. It's not only high energy, but also very high power."
Cuberg has since grown to employ more than 200 people. In March 2021, the company was acquired by larger Swedish start-up Northvolt, which has about 5,000 employees and has raised more than $8 billion in capital, according to Wang. A leading battery manufacturer, Northvolt is currently building gigafactories in Europe and plans to do the same in North America.
Cuberg now serves as Northvolt's high-performance products division, Wang says, which is the foundation for commercialising "new and more advanced technologies that have significant energy-density and power capabilities".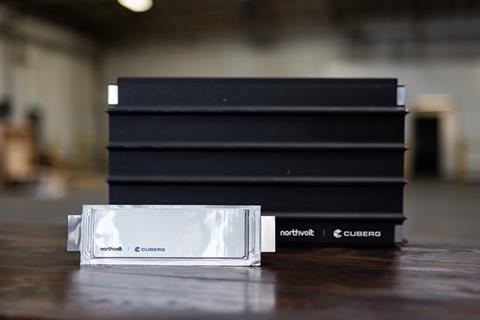 Cuberg's battery technology are "designed to be certifiable" as part of aircraft type certification, Wang says, but the technology itself does not require certification from the Federal Aviation Administration. Rather, the company is pursuing a TSO (Technical Standard Orders) Authorisation, the FAA's "performance standard for specified materials, parts and appliances used on civil aircraft".
Wang believes Cuberg will be integral in the movement to develop and manufacture "better battery technology purpose-designed for aviation" and will become "a core supplier in the industry for these power train solutions".
The start-up's customers are what Wang calls "fast followers" – not eVTOL companies such as Archer Aviation and Joby Aviation, which intend to enter service in 2025, but rather those who intend to be part of the second wave of electric aircraft commercialisation in 2027 to 2028.
"They can sort of let the Jobys of the world pave the certification pathway and do a lot of the heavy lifting on regulations," Wang says, "and they can leverage a lot of more advanced technologies – especially batteries."