Spanish start-up Dante Aeronautical has outlined its plans for the development of electric-powered sub-regional aircraft which should culminate in a clean-sheet 19-seater by the end of the decade.
Dante is at present working on the conversion of a Cessna Caravan for Australia's Sydney Seaplanes, replacing its Pratt & Whitney Canada PT6 engine with a 750shp (500kW) Magnix Magnfi500 electric motor and batteries.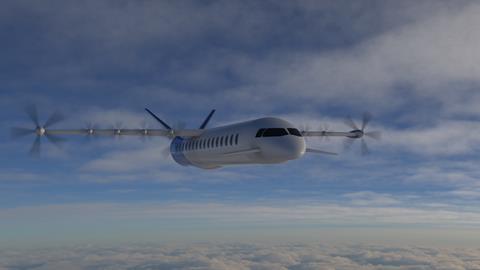 That modification should be approved via a supplemental type certificate in the 2024-2025 timeframe, says Dante co-founder Miguel Madinabeitia, allowing the company to then move to development of a similar retrofit for a twin-engined type.
"We will use the knowledge and experience we have gained on one-engine aircraft to move into twins," he says.
No decision has been made on the type for conversion, although options include various Cessna models, the Viking Air DHC-6 Twin Otter and Airbus Defence & Space C212.
Service entry for the modified twin would be around two to the three years after the Caravan, says Madinabeitia, or around 2026-2027. Range for both the single- and twin-engined aircraft will be around 110-135nm (200-250km).
While the initial conversion of the Caravan will use battery power, he says future developments may use hydrogen fuel cells instead, depending on how quickly the "young technology" matures.
Learnings from both conversion projects will then be used to inform the design of a planned 19-seat aircraft called the DAX-19, which will be able to fly around 500nm.
At present, renderings show a design with the high wing located towards the rear of the fuselage. Large electric motors are installed on both wing-tips, with a third in pusher configuration on the tail. A further eight smaller propulsors are fitted along the length of the wing. A forward canard and V-tail complete the proposed configuration.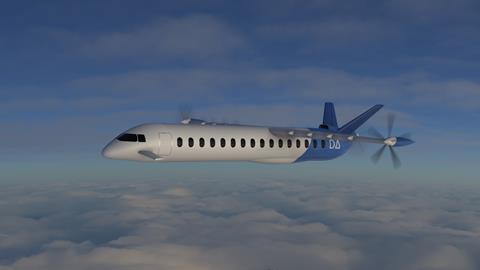 While there are safety issues with wing-tip-mounted engines, Madinabeitia believes that improvements in on-board computing and the distributed nature of the propulsion system will mitigate these concerns.
In addition, he stresses that the design is not finalised, noting that the canard, for example, adds complexity that the company is trying to avoid.
Dante has so far struck agreements with Spanish carriers Air Nostrum, Isla Air Express and Volotea, with the carriers contributing data to assist the overall development process.
The agreements do not cover the purchase of any future aircraft, says Madinabeitia, but are a sign that "they are very interested in the electric world and the clean future of aviation".
Isla Air operates float-equipped Twin Otters on intra-Balearic Island routes and plans to extend coverage to include services to Alicante and Valencia in mainland Spain.
An electric conversion for Isla Air would be a logical progression, but flights using small sub-regional aircraft would be a shift for Air Nostrum and Volotea, which both operate large jets or regional turboprops of 50 seats and above.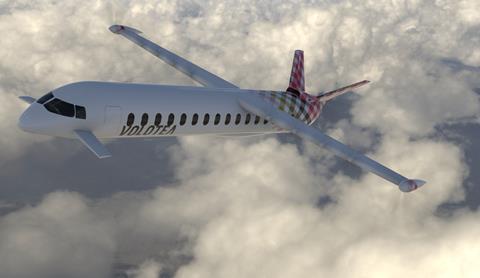 Nonetheless, Madinabeitia insists the carriers' interest in this space is genuine and small electric aircraft with lower operating costs will allow them to "open up… new routes, new missions and new traffic".
Additionally, Air Nostrum and Volotea are working with Dante to secure €42 million ($50 million) of funding from the EU to bankroll the initial electrification work.
However, Madinabeitia says the company is also seeking private investment and its plans are not reliant on securing the EU funding.