Deutsche Aircraft has completed windtunnel tests of a powered model of the hydrogen-electric D328 Alpha technology demonstrator it is developing in a project alongside GE Aerospace and H2Fly.
Conducted over a nine-week period at a facility in Friedrichshafen in southwest Germany, the trials were designed to validate the aerodynamic integration of the demonstrator's propulsion system.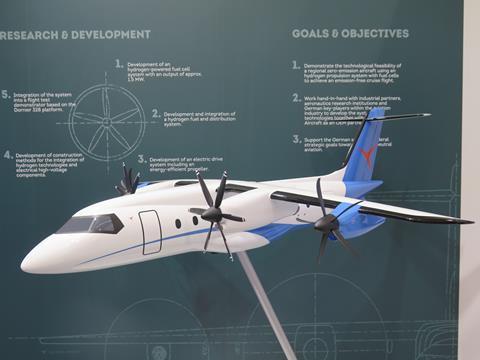 Under the German government-backed project, Deutsche Aircraft will modify a Dornier 328 twin-turboprop, adding a pair of 1MW GE electric motors outboard of the aircraft's existing Pratt & Whitney Canada PW119 thermal engines.
Power for the electric motors will be supplied by a 1.5MW-class fuel cell system running on liquid hydrogen.
Deutsche Aircraft says the tests "evaluated various combinations of propulsive powers, stability, control and performance parameters over the expected flight envelope".
"The outcome of this test confirms prior analysis conducted using state-of-the-art Computational Fluid Dynamics and will allow Deutsche Aircraft to refine an engineering flight simulator," it adds.
First flight of the demonstrator is expected in 2025 or 2026.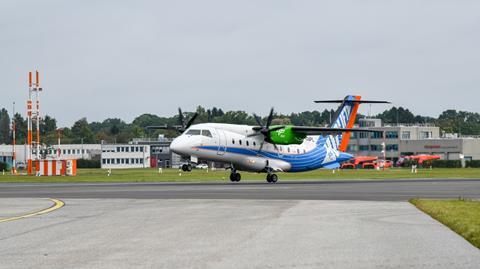 Meanwhile, on 25 September the manufacturer handed over a Do 328 (D-CUPL) to Germany's DLR aerospace research agency, which will serve as a flying testbed to trial hydrogen technologies.
Dubbed the D328 UpLift, the former PSA Airlines asset was handed over at a ceremony at the German National Aerospace Conference in Hamburg.
Deutsche Aircraft was selected to supply and convert the twin-turboprop following a public tender. The broader UpLift project, part funded by the German Federal Ministry for Economic Affairs and Climate Protection, is researching technologies – including propulsion and fuel systems — for the use of hydrogen in aviation.
Oberpfaffenhofen-based Deutsche Aircraft is the type certificate holder for the Do 328 and is developing an updated version of the legacy turboprop called the D328eco.

Dominic Perry is deputy editor of Flight International but also contributes extensively to flightglobal.com. Although specialising in the coverage of the helicopter industry, he has written on most topics in aerospace – be they commercial, defence or business aviation. In addition, there has been an increasing focus on the decarbonisation of the industry and zero-emission flight initiatives.
View full Profile