UK start-up Electric Aviation Group (EAG) has broadened the focus of its research and development efforts into a zero-emission regional aircraft, adding hydrogen and sustainable aviation fuel (SAF) to the mix.
Launched at last year's Farnborough Connect virtual air show, EAG's regional programme has since gained backing from regional lessor Falko Regional Aircraft.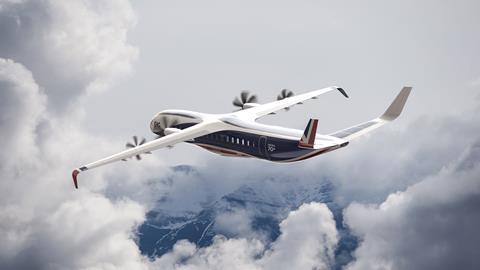 While initially focussed on a hybrid-electric powertrain, EAG now says it is keeping its options open.
"There is no silver bullet and decarbonisation of the aviation sector is going to be incremental," says founder and chief executive Kamran Iqbal. "We need to work simultaneously on multiple technology pathways for powertrains covering liquid hydrogen, fuel cells, ammonia, SAFs, batteries and hybrid SAFs."
As a result, the company has also altered the branding of its aircraft, adding a '2' after the initial H in the current HERA acronym, reflecting the addition of the prefix Hydrogen to the existing Hybrid Electric Regional Aircraft name.
To assist with the broader powertrain research, EAG has added to its board and technical advisory team, appointing Professor Ric Parker – a former director of research and technology at Rolls-Royce – and Professor Nigel Brandon – dean of engineering at Imperial College London, and founder of the UK-listed fuel cell and electrolyser developer Ceres Power.
"We are delighted to welcome our new team members: Ric has an extensive track record in driving low-carbon aviation projects, not least through his chairmanship of the EU's Clean Sky programme, while Nigel has a strong track record of developing technology companies in the hydrogen sector," says Iqbal.
"Their appointment will enable EAG to accelerate its ambitions for zero-carbon regional flight."
Parker says he is delighted to be able to support the programme, adding: "EAG has a great vision, and their proposed product fills an essential gap between all-battery, short-range, urban air transport and mass, long-range flight."
Brandon adds: "The development of aircraft capable of operating without negative environmental impact is one of the major challenges facing the transition to net zero, and I am very excited to be working with the team at EAG to help address this challenge."
EAG has also confirmed its intention to flight-test low-emission technologies in the next five years on an existing regional turboprop, likely an ATR 72 or De Havilland Canada Dash 8, in order to "de-risk the new product development and certification". It is in the process of sourcing the airframe for the demonstrator programme.
While that effort will inform the configuration of a clean-sheet design, it also could open the path to the conversion of existing airframes as an interim step.
EAG's H2ERA design will have a range of up to 1,200nm (2,220km) and is designed to replace regional turboprops carrying 70 passengers and above. If launched it would likely enter service in 2030.