The US Federal Aviation Administration will publish an airworthiness directive on 19 February ordering the inspection of cargo compartments on Boeing 787 type aircraft, adding to the list of safety and maintenance complications for the aircraft.
The FAA estimates that 222 787 aircraft will be impacted, according to a copy of the unpublished directive obtained by Cirium. The agency says it received "reports of multiple incidents", so it will require "repetitive inspections" of the forward and aft cargo areas of 787s for disengaged or torn decompression panels, which should be reinstalled or replaced if necessary.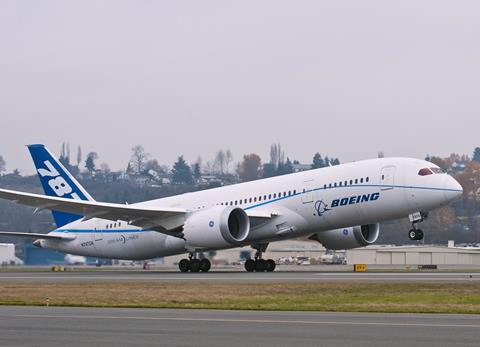 These decompression panels are a safety risk because "in the event of a cargo fire, significant leakage in the bilge area could result in insufficient Halon [fire extinguisher gas] concentrations to adequately control the fire", the FAA says.
The agency estimates that each inspection cycle will cost $56,610. The first inspections should be done by the end of March and should be repeated within 120 days.
This safety fix is the latest in a growing list of maintenance defects and other quirks Boeing faces with its 787 family aircraft. Manufacturing errors reported by Boeing and the aircraft's operators have included a problem that affects the aircraft's horizontal stabilisers, troubles with its autopilot flight-director systems, and gaps in its fuselage.