Deutsche Aircraft has begun cutting metal for the first parts to equip its initial D328eco prototype as it works towards a first flight of the turboprop in mid-2025.
Dave Jackson, managing director of the German airframer, says 90% of the aircraft's supply chain has now been "locked down".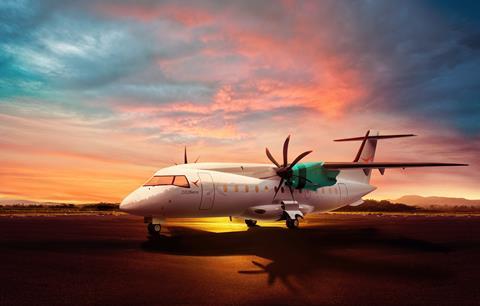 The selection of Nordam to design and build the D328eco's nacelles, announced at the show today, was the last of the major work packages to be allocated with just lower-tier suppliers still to be finalised, he says.
Deutsche Aircraft – which at the show displayed for the first time its cockpit and cabin mock-ups to the public – will build two prototypes, plus a production-conforming aircraft for the certification campaign.
Although it will use pre-built structures - wings, noses and empennages - retained since the demise of the original Dornier 328 programme to equip the two prototypes, new centre fuselages will also be built.
These are 2.2m (7.2ft) longer than on the previous model, allowing passenger capacity to increase to 40 seats in a 1-2 layout.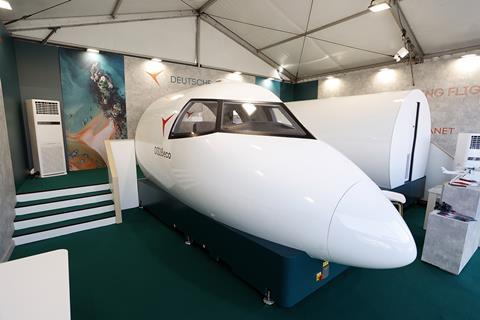 The first stringers for the centre fuselage have now arrived at the firm's Oberpfafenhofen headquarters near Munich: "We have started cutting metal," says Jackson.
He sees no problem in hitting a service entry goal of late 2026, despite the relatively short flight-test period, pointing out that will be achieved through an amendment to the Do 328's existing type certificate.
Deutsche Aircraft recently logged its first sale for the D328eco and Jackson is confident it can accumulate 150-200 orders – or three to four years of production – "between now and service entry".

Dominic Perry is deputy editor of Flight International but also contributes extensively to flightglobal.com. Although specialising in the coverage of the helicopter industry, he has written on most topics in aerospace – be they commercial, defence or business aviation. In addition, there has been an increasing focus on the decarbonisation of the industry and zero-emission flight initiatives.
View full Profile