UK government-backed FlyZero has unveiled designs for two zero-emission aircraft months ahead of schedule, having whittled down the list of concepts from the 27 'scout' designs it unveiled in September.
Powered by liquid hydrogen, the midsize aircraft would have capacity for 279 passengers, says FlyZero.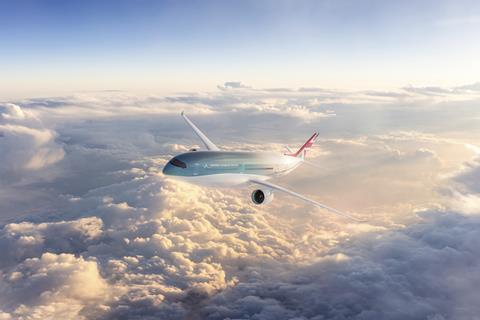 It claims that the concept jet could perform an emissions-free nonstop flight between London and San Francisco.
The predicted performance of the jet has not been released, but to follow a great circle flightpath between the two cities would require an aircraft with range in the region of 5,000nm (9,260km).
Comparatively, Boeing's 787-8 can carry 248 passengers in two-class layout on routes of up to 7,300nm.
"At a time of global focus on tackling climate change our midsize concept sets out a truly revolutionary vision for the future of global air travel keeping families, businesses and nations connected without the carbon footprint," says FlyZero project director Chris Gear.
Images of the concept aircraft were released by the Aerospace Technology Institute (ATI) – which is responsible for the FlyZero project – ahead of the fourth meeting of the public-private Jet Zero Council on 7 December.
FlyZero has already revealed its single-aisle concept, showing the aircraft design to the Royal Aeronautical Society's Alternative Propulsion Systems conference on 1 December. It features engines integrated into the V-tail and has forward canards.
Previously, FlyZero said it would release details of the three concept aircraft – spanning the regional, single-aisle and mid-market segments – in February 2022, the end of its initial one-year term.
Speaking in September, Gear said he hoped the project could continue for another five years, allowing the initiative to begin testing some of the necessary technological bricks, eventually building to a flight-demonstration phase.
Meanwhile, the government has also confirmed the funding agreements for the eight sustainable aviation fuel projects that were selected to share a total of £15 million ($19.8 million) under its Green Fuel, Green Skies competition.