German low-emission airline start-up Evia Aero is to join forces with Finnish airport specialist Redstone Aero to develop a 50MW solar farm at the latter's Helsinki-East aerodrome site.
In addition, Evia Aero will take an undisclosed stake in Redstone Aero and the Helsinki-East project.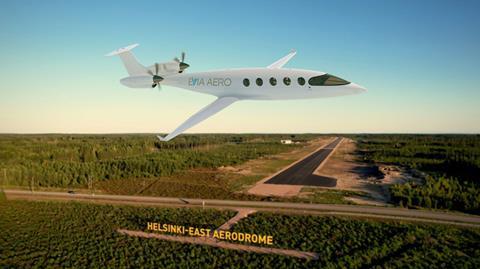 Evia Aero says the solar plant will be used to generate green electricity for charging electric aircraft, powering the airport itself, and supplying wider industry.
In future, the partners also foresee the installation of charging stations for aircraft, buffer batteries for intermediate storage and the construction of small electrolysers to produce green hydrogen for use by fuel cell-powered aircraft.
Bremen-based Evia Aero has both full-electric and fuel cell aircraft on order, with respective commitments for the Eviation Alice and Cranfield Aerospace Solutions hydrogen modification kits.
After receiving a building permit and the construction of the grid connection, the project partners expect the solar plant to be operational within 24 months.
Florian Kruse, Evia Aero chief executive, says: "Helsinki-East aerodrome is the first airport in Europe where we are implementing our sustainable value chain with our partner."
Helsinki-East is located around 60 miles (100km) northeast of the Finnish capital. Redstone sees it as "a hub for national aviation industry, unscheduled air traffic and future aerospace development".

Dominic Perry is deputy editor of Flight International but also contributes extensively to flightglobal.com. Although specialising in the coverage of the helicopter industry, he has written on most topics in aerospace – be they commercial, defence or business aviation. In addition, there has been an increasing focus on the decarbonisation of the industry and zero-emission flight initiatives.
View full Profile