GKN Aerospace hopes by the end of 2023 to have more clarity on potential government funding for several research and development programmes that will pave the way for flight tests of a hydrogen-powered aircraft.
In August, the UK-headquartered manufacturer announced a tie-up with Marshall Aerospace and Parker Aerospace to develop a liquid hydrogen fuel system for future applications.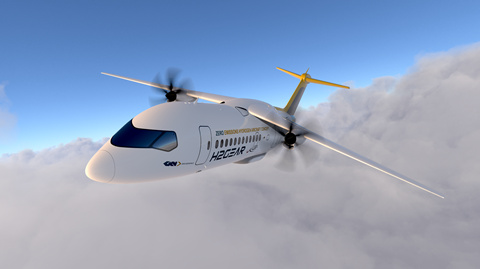 That development, it said, would support its ambitions to fly a fuel cell powertrain through a partnership it announced with Embraer at June's Paris air show.
Russ Dunn, GKN Aerospace chief technology officer, says it has applied to the UK's Aerospace Technology Institute (ATI) for a grant for the fuel system project and is "anticipating" a funding award.
The project's total cost is around £40 million ($50 million), he says; industry typically contributes around 50% to such research programmes.
In parallel, GKN Aerospace is seeking backing from the Dutch and UK governments for work to be undertaken through the joint initiative with Embraer.
Announcing the pact in June, the companies said it was "focused on feasibility studies, hydrogen R&D programmes and exploring the potential development of a hydrogen flight demonstrator".
Dunn says the company will seek funding for two separate projects to support the Embraer initiative as a way of "avoiding any complexity between governments", albeit both countries are "directionally really aligned" on the programme's goals.
The precise construct of the initiative will be developed over the "next two to three months", with the goal to finalise that by year-end, ahead of a formal launch in 2024.
Additional partners – including potentially an airline – may be sought as the effort progresses.
Through its 2015 purchase of Fokker, GKN Aerospace acquired a considerable presence in the Netherlands, including capabilities in high-voltage electrical distribution – a vital component for future hydrogen-electric powertrains.
GKN is already working on an ATI-funded project in the UK called H2GEAR which will culminate in ground tests in 2025 of a 1MW-class fuel cell powertrain.
Flight tests, to take place in the Netherlands, are foreseen in the 2028-2029 timeframe, supporting service entry in the 2030s.
Dunn was speaking at an event in London on 5 September to launch a new lobbying group called the Hydrogen in Aviation alliance.
He says that in recent years, the company has launched hydrogen-related research programmes representing a total investment of £200 million, of which GKN Aerospace has contributed £70 million.
"Our goal is to push the boundaries to the maximum possible payload and range to have the greatest impact on the environment and the growth of the aviation sector," he says.
Modelling conducted as part of the H2GEAR programme has given the company confidence that fuel cells could power an aircraft with at least 100 seats.
Separately, GKN Aerospace parent Melrose Industries has reported strong performance in the first half of 2023, with revenue and profit both ahead of expectations.
Melrose Industries is now solely an aerospace-focused business following its spin-out in April of GKN's automotive, powder metallurgy and hydrogen businesses into a new listed company called Dowlais.
In the six months to 30 June, adjusted revenue stood at £1.6 billion, against £1.3 billion in the same period of 2022, while aerospace operating profit hit £175 million, up from £67 million a year earlier.
Full-year adjusted aerospace operating profit is now forecast to be in the £375 million to £385 million range, says Melrose.

Dominic Perry is deputy editor of Flight International but also contributes extensively to flightglobal.com. Although specialising in the coverage of the helicopter industry, he has written on most topics in aerospace – be they commercial, defence or business aviation. In addition, there has been an increasing focus on the decarbonisation of the industry and zero-emission flight initiatives.
View full Profile