Global demand for air cargo "softened" in November 2022, the most recent month of data, as carriers continued facing economic headwinds and the pandemic-related cargo boom lost steam.
As measured in cargo tonne-kilometres (CTKs), global air freight demand fell 13.7% last November compared with November 2021, according to a 9 January report from the International Air Transport Association (IATA).
"Air cargo performance softened in November, the traditional peak season," says Willie Walsh, IATA's director general. "Resilience in the face of economic uncertainties is demonstrated with demand being relatively stable on a month-to-month basis. But market signals are mixed."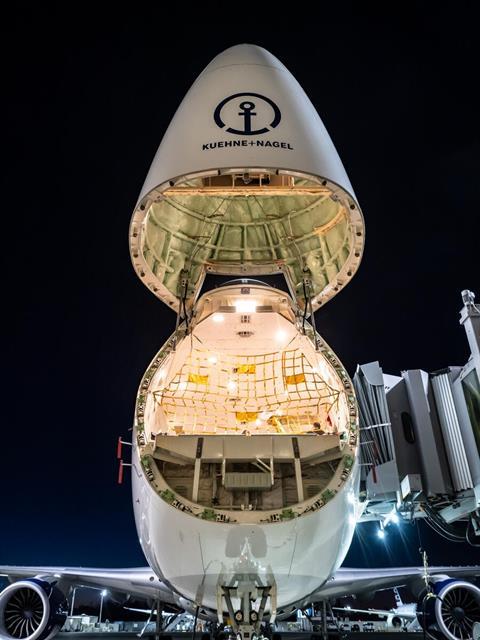 Latin America was the only region to show a positive change in demand for air cargo during the month, with its CTKs up 2.2% in one year.
North America's CTKs fell 6.6% year-on-year, while the Asia-Pacific region posted the largest loss, down 18.6% from one year prior, IATA says.
"Airlines in the [Asia-Pacific] region continue to be impacted by lower levels of trade and manufacturing activity and disruptions in supply chains due to China's rising Covid cases," IATA says.
Europe, feeling the affects of Russia's war with Ukraine, also saw demand for air cargo decrease signficiantly, with CTKs down 16.5% year-on-year in November.
Though oil prices stabilised and the pace of inflation slowed in November – indicators "with upside potential", Walsh says – shrinking export orders and China's surge in Covid-19 cases "are cause for careful monitoring", he adds.
New export orders – a top indicator of cargo demand – stayed stable in October thanks to growing export demand in Germany, the USA and South Korea, while such orders decreased in the rest of the world, IATA says.
Demand for air cargo capacity soared during the Covid-19 pandemic and stayed strong for many months thanks to the rise of e-commerce, driving a boom in converting ageing passenger aircraft into freighters.
"We got hit with Covid, of course, and then suddenly you have a whole bunch of aircraft that got parked," Raphael Haddad, president of specialist commercial aircraft trading firm Jetcraft Commercial, said during a 17 November interview.
An estimated 190 passenger-to-freighter conversions were completed in 2022, up from 120 in 2021, according to Jetcraft. And the trend of converting passenger cabins of widebody and narrowbody jets to accommodate bulk cargo is here to stay, Haddad says.
The dominant force in the global air cargo industry, Boeing – having launched the 777-8 freighter in early 2022 – forecasts demand for 2,795 more cargo aircraft in the next 20 years. It expects cargo-haulers will require 940 new widebody aircraft, 555 converted widebodies and 1,300 narrowbody jets converted into freighters.
Airbus, which recently launched the A350F, estimates the world's airlines will need 2,440 freighters over the next 20 years, including about 880 new aircraft.
"Today, what we have is new freighters being launched by Boeing and Airbus and a large number of MROs that are in business of converting widebodies and narrowbodies," Haddad says. "You now have certified cargo conversions of A320s and A321s, which wasn't the case a few years ago."
Ocean shipping rates were several times more expensive through early 2022 compared with pre-pandemic 2019, which helped drive demand for air cargo. The global air freighter fleet expanded 12% in 2020 alone, Jetcraft says.
Airlines have increasingly entered the cargo arena. Last year, Hawaiian Airlines agreed to operate at least 10 A330-300 freighters for Amazon, granting the e-commerce giant rights to own 15% of Hawaiian Holdings' stock. The carrier says it will open a new US-mainland crew base to support the operation.
Hawaiian will begin flying one of Amazon's A330-300P2Fs in autumn 2023 and plans to place the other nine into service by the end of 2024. It will use the jets to "move cargo between airports near the online retailer's operations facilities", Hawaiian said last year.
Purely cargo operators such as Canada's Cargojet are converting passenger aircraft to carry freight. In May 2022, Cargojet signed for conversion of four 777-300ERs through an agreement with Israel Aerospace Industries, with the first of the converted 777s expected to be delivered early in 2023.
But as IATA and Jetcraft have warned, several indicators suggest global demand for air cargo is slipping. "While all-cargo aircraft is currently at an all-time high," Jetcraft says, "with the pandemic winding down and a recession looming, [freighter] utilisation is starting to decrease."