Swedish start-up Heart Aerospace has selected Crane Aerospace & Electronics to collaborate on producing the electrical power distribution system for its 30-seat hybrid-electric ES-30 regional aircraft.
The companies on 26 July disclosed they will work to develop the system for providing battery power to the flight controls, avionics and other energy-using systems of Heart's ES-30, planned for service entry in 2028.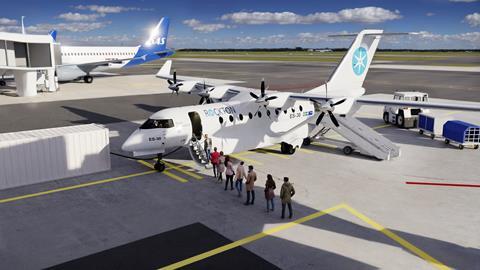 Heart says they will "collaborate to define the requirements necessary to integrate [Crane's] high-voltage power conversion system, as well as its low-voltage control and distribution" system, into the ES-30's airframe.
"With decades worth of experience from delivering proven systems and components to the aerospace industry, [Crane] is a great partner for Heart in the development of the ES-30," says Anders Forslund, Heart's co-founder and chief executive.
Crane is headquartered in Washington and has nine global production locations, according to its website.
The conceptual ES-30 is said to have a standard seating arrangement for 30 passengers and a "fully electric zero-emissions" range of 108nm (200km), Heart says, adding that the ES-30 would have a hybrid-electric range of 216nm and flexibility to fly up to 432nm with 25 passengers. The company says all of its estimated ranges include "typical airline reserves".
Heart says it has 250 firm orders for ES-30s, with 120 options, and letters of intent for a further 91 aircraft.
Earlier this month, Heart secured almost SKr20 million ($1.8 million) from Sweden's Vinnova innovation agency to build and ground test a full-scale demonstrator of its regional commuter.