Honeywell has secured its first customer for a new means of producing synthetic sustainable aviation fuel (eSAF) that promises significantly lower carbon dioxide (CO2) emissions than conventional jet fuel.
The UOP eFining technology developed by Honeywell enables the conversion of eMethanol to eSAF "reliably, at scale and economically", says the company.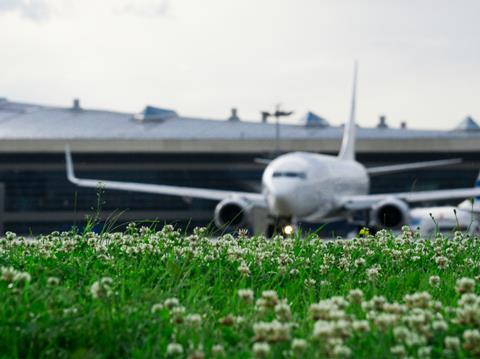 It has been selected by HIF Global for deployment at an undisclosed refinery in the USA, which at full capacity will be capable of producing 11,000 barrels of eSAF per day.
However, the refinery is unlikely to come on stream much before 2030, says Leigh Abrams, emerging renewable fuels senior business leader at Honeywell.
"These projects take a couple of years to build… the whole timeline is years not months," she says.
Honeywell is negotiating with several other eFuel producers regarding the use of UOP eFining, says Abrams, for projects ranging from "about one-fifth" of the size of the HIF Global facility "up to much, much larger" plants.
Production of eSAF first requires the use of renewable electricity to separate hydrogen from water. For HIF Global's project, that hydrogen is then combined with CO2 captured from the atmosphere, using technology from Johnson Matthey, to produce eMethanol – the feedstock for a variety of sustainable fuels.
Honweywell says the UOP eFining process can reduce greenhouse gas emissions by 88% compared to conventional jet fuel and is less carbon intensive to produce than other eFuels.
Abrams says the processes involved are "proven technologies" which Honeywell is "adapting to this new market" in line with growing demand from aviation.
While hydrogen advocates argue that it is better used as a stand-alone fuel rather being subjected to the additional processes required for conversion to eSAF, Abrams points out that the aviation industry is not yet equipped for that step.
"The importance of this pathway is that it is a drop-in solution and is ready today," she says.
Renato Pereira, chief executive of HIF USA, adds: "Honeywell and HIF Global together will transform recycled CO2 into a useful feedstock to replace fossil fuels in the very hard to abate aviation sector.
"At HIF Global, we view Honeywell's UOP eFining technology as the new frontier in sustainable aviation fuels and we look forward to deploying it to decarbonise over 12 billion air passenger miles per year."

Dominic Perry is deputy editor of Flight International but also contributes extensively to flightglobal.com. Although specialising in the coverage of the helicopter industry, he has written on most topics in aerospace – be they commercial, defence or business aviation. In addition, there has been an increasing focus on the decarbonisation of the industry and zero-emission flight initiatives.
View full Profile