Hong Kong International Airport (HKIA) expects its third runway to be ready for use in 2022, about six years after construction began, with the project completed on schedule.
The announcement on 7 September comes as HKIA operator Airport Authority Hong Kong marks the completion of runway pavement works, calling it a "major milestone" in the Three-Runway System (3RS) mega-airport expansion project.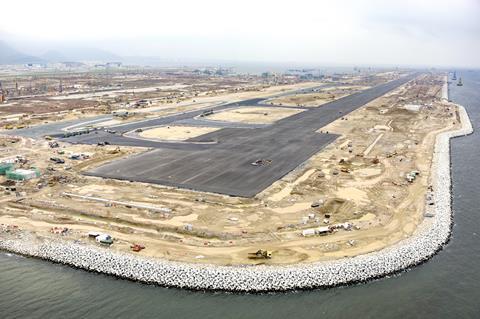 Construction for the 3RS — also comprising terminal expansion works, as well as new people mover and baggage handling systems and other infrastructural works —began in 2016. As part of expansion works, developers have had to reclaim more than 650 hectares of land north of the existing HKIA facility.
While the new 3,800m runway will be the first to be operational, other elements of the 3RS will be ready by 2024.
The expansion brings HKIA's capacity up to around 120 million passengers and 10 million tonnes of freight annually.
Hong Kong chief executive Carrie Lam, speaking on 7 September at HKIA, says the 3RS will"generate direct, indirect and induced contributions of about 5% of the gross domestic product of Hong Kong by 2030".
"It demonstrates that 3RS would inject impetus to HKIA, as well as the overall Hong Kong economy in the future," Lam adds.

Along with the 3RS, Hong Kong is also building what it calls "Airport City", which comprises retail, entertainment, office as well as logistics premises situated around HKIA. These will be completed in stages, between 2023 and 2027.
At the time of its launch, the 3RS was touted as a solution to "meet Hong Kong's long-term air traffic demand". It was among the various mega-airport projects in the region to have been rolled out — including Singapore's new Terminal 5 project, as well as Sydney's new Western Sydney airport — amid a travel boom.