The Indian government has banned all flights to and from the UK, over fears of a newly-discovered coronavirus strain that seems to be far more infectious.
The announcement, made on 21 December, came hours after Hong Kong enacted similar measures on flights to and from the UK to curb the spread of the new strain.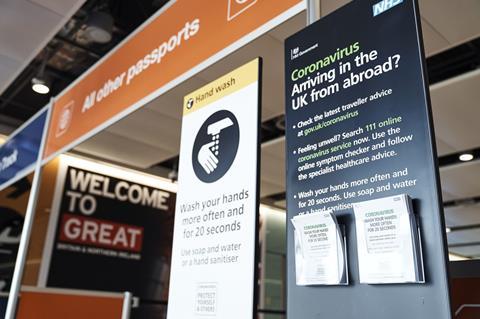 India's civil aviation ministry says the suspension of all commercial passenger flights takes effect 22 December until 31 December.
"Airlines operating flights to India from other countries shall not board any passenger travelling from UK to India and shall ensure that no passenger coming from UK is boarded in a flight for any destination in India either directly or indirectly," the ministry adds.
Prior to the ban, India and the UK had a travel bubble arrangement. Cirium schedules data shows there are five carriers operating flights between the two countries: British Airways and Virgin Atlantic from the UK, as well as Air India, SpiceJet and Vistara from India.
Among them, British Airways has the highest number of flights, with flights from London Heathrow to Hyderabad, Mumbai, Delhi, Bengaluru, as well as Chennai. Virgin Atlantic, meanwhile, operates flights between London Heathrow and Delhi and Bombay.
As for Air India, it flies to the most points between both countries, with flights between London Heathrow and Delhi, Amritsar, Mumbai, Kolkata, Cochin, Bengaluru, Ahmedabad, Goa and Kolkata, as well as between Birmingham and Amritsar.
Vistara has flights between London Heathrow and Delhi, while SpiceJet operates between London Heathrow and Mumbai and Delhi.
Scores of countries worldwide have banned travel to and from the UK, including Canada, France, German, the Netherlands and Italy.
Elsewhere in Asia-Pacific, several countries and territories are mulling a ban on travel to and from the UK.
In a radio interview on 22 December, Australian deputy prime minister Michael McCormack said his government will "continue to review" travel to and from the UK, and will monitor the situation in the UK closely.
McCormack, who is also the country's minister for infrastructure, transport and regional development, deferred to Australia's chief medical officer, noting that a complete suspension of flights between both countries "is not necessary at this stage".
Taiwan, too, is looking into whether or not to ban flights to and from the UK.
Minister for transportation and communications Lin Chia-lung was reported in local media as saying that the Taiwanese civil aviation authorities will discuss the matter with Taiwan's epidemic command centre, and will take guidance from the centre.
Singapore on 22 December announced tighter restrictions for travel to and from the UK. Effective immediately, all long-term pass holders and short-term visitors who have travelled to the UK within the last 14 days will be barred from entering or transiting through Singapore.
However, Singapore did not announce an outright ban on flights to and from the UK, with the authorities adding that they were also monitoring the situation closely.
Other Asia-Pacific countries with air links to the UK have not publicly disclosed if they were looking to halt commercial air travel to the country.