The New Ulaanbaatar International airport, also known as Chinggis Khaan International airport, officially opened on 4 July under the management of a Japanese-led consortium.
Operator New Ulaanbaatar International Airport (NUBIA) was established in 2019 as a joint venture between the Mongolian government and Japanese conglomerate Mitsubishi, airport operators Narita International Airport and Japan Airport Terminal, as well as airport retail specialist Jalux, the Japanese entities said in a joint statement dated 2 July.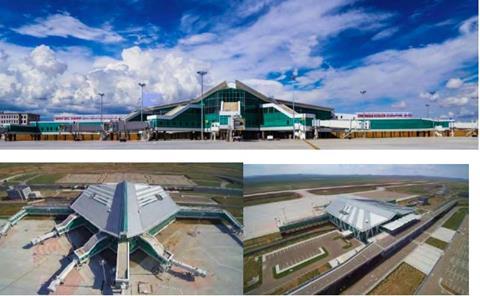 NUBIA has a concession agreement with the local government to manage airport operations for the next 15 years.
The Japanese firms collectively own 51% of NUBIA via a special-purpose vehicle, while the Mongolian government owns the remaining 49%, also through a special-purpose company.
The new airport, located 50km to the south of the capital city Ulaanbaatar, was originally scheduled to commence operations in 2020, but the opening was delayed because of the Covid-19 pandemic.
"All assets have now been safely transferred from the old airport (Buyant-Ukhaa International airport), thereby readying the new airport for flights and passenger traffic," the Japanese entities say.
Although the pandemic has significantly reduced air travel in Mongolia, demand for flights is expected to increase over the medium to long term, particularly in Ulaanbaatar, according to the statement. The new airport will likely play an increasingly prominent role over the coming years, it adds.
"In addition to prioritising passenger safety, security and comfort, NUBIA plans to leverage the new airport to increase the number of routes and flights servicing Ulaanbaatar, develop attractive in-terminal commercial facilities, and otherwise enhance the new airport's services and profitability."
As of 2019, the old airport was capable of servicing 1.6 million passengers, comprising 1.2 million for international routes and 410,000 for domestic routes.