Japan's Nakanihon Air has operated the country's first helicopter flight powered by sustainable aviation fuel in collaboration with Airbus Helicopters.
The 30-minute sortie was operated by an Airbus Helicopters H215 heavy-twin at Nagoya Airport.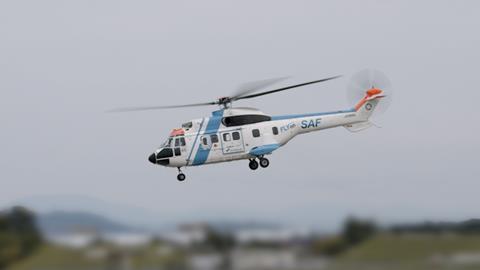 The H215 was fuelled with 600l Susteo 10-1, an SAF blend produced by Japanese biofuel manufacturer Euglena. The fuel comprises 10% SAF mixed with Jet A-1 kerosene.
Airbus Helicopters says its rotorcraft are certified to fly with up to 50% blended SAF, and it is working with engine manufacturers to allow them to fly with 100% SAF in the near future.
Nakanihon Air president Hajime Futagami says: "Today's SAF flight trial is very important for our company as we work on the reduction of the CO2 emitted during flights in an effort to tackle climate change issues. The locally produced SAF is an immediate approach towards reducing carbon emissions for the helicopter market."
Adds Airbus Helicopters Japan managing director Guillaume Leprince: "As a leader in the Japanese helicopter market, this SAF powered flight is an important step in a shared vision we have with stakeholders in the helicopter market and the industry to reduce CO2 emissions in the country. The H215 has fully demonstrated its ability and readiness to provide enhanced mission efficiency and performance our customers have come to expect."
Nakanihon is based near Nagoya Komaki airport and specialises in areas such as emergency medical services, electronic news gathering, as well as passenger and goods transportation in Japan.
According to its website, the operator has three H215 heavy-twins in its fleet of helicopters, which also include other Airbus Helicopters models.