Long Beach-based JetZero is making its Paris air show debut this week as it looks to gain momentum for its Z4 blended-wing-body aircraft after emerging from "stealth mode" early this year.
Pitched at the mid-market space occupied by the Boeing 767 and 787-8 – with 250 seats and range of 5,000nm (9,260km) – the Z4 will offer a 50% fuel-burn reduction and weight saving over both types.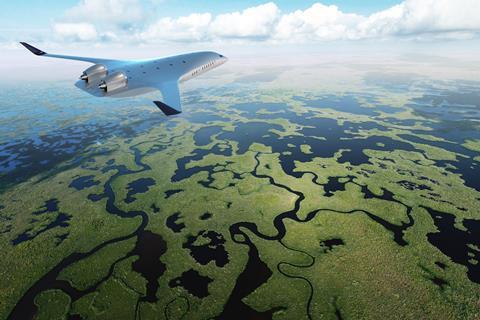 Mark Page, founder and chief technology officer, sees a total addressable market for the Z4 running into thousands of aircraft.
He points out that the efficiency gains promised by the blended-wing-body configuration are achievable with current engine technology rather than requiring another leap in powerplant performance.
Under the company's current plan, it intends to fly a full-scale demonstrator in 2027, built by Northrop Grumman's Scaled Composites unit, leading to a certification prototype in 2029, followed by service entry in the "early 2030s", says Page.
Scaled Composites is the only declared partner to date, but discussions are ongoing with several credible tier-one suppliers, he adds.
JetZero intends to use current-generation narrowbody powerplants for the aircraft, mounted at the rear above the fuselage. Although its renderings show conventional ducted turbofans, the company believes installation of an open-rotor engine would also be feasible.
Inside the cabin, there are four distinct bays for seating, although due to the wider fuselage there are only 14 rows of seats.
To enable potential customers to visualise the space, the company has built a large fuselage mock-up inside its Long Beach hangar.
While the Z4 is pitched at the middle-market, the concept could accommodate as few as 180 to tackle the narrowbody space, or scale up using a Y-shaped fuselage plug to seat 350 passengers.
Page estimates that it will need around $5 billion to bring the aircraft to market and the company has begun a Series A funding round. Early stage backing has been provided by the Build Collective fund.
In addition, JetZero is bidding for a $245 million US Air Force requirement around a next-generation tanker that would also contribute to the development of the demonstrator.
Although Airbus and Boeing have previously touted such blended-wing-body designs, both are pursuing more conventional tube-and-wing designs for their next aircraft.
"They are still extracting lots of value from their [current] products – there is no motivation to take a risk and change that calculus.
"But once we enter the market they will have to follow."
JetZero has assembled an initial advisory panel of three "major airlines" and has the ambition of expanding that by year-end.

Dominic Perry is deputy editor of Flight International but also contributes extensively to flightglobal.com. Although specialising in the coverage of the helicopter industry, he has written on most topics in aerospace – be they commercial, defence or business aviation. In addition, there has been an increasing focus on the decarbonisation of the industry and zero-emission flight initiatives.
View full Profile