Joby Aviation says that it has successfully flown the production prototype of its in-development electric vertical take-off and landing (eVTOL) aircraft for the first time.
Chief executive JoeBen Bevirt said during the California start-up's 2 August quarterly earnings call that the company is "pleased to confirm the aircraft flew for the first time last week following extensive ground testing".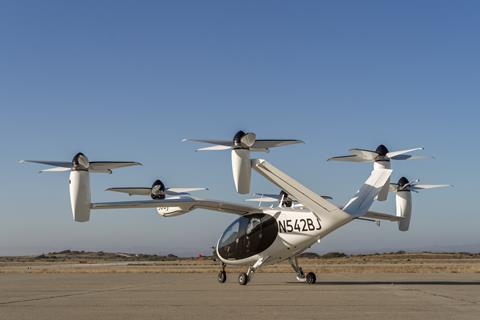 "It performed as expected, and we're looking forward to expanding our flight test programme with the aircraft before delivering it to Edwards Air Force Base in 2024," Bevirt adds. "We have been building and flying full-scale aircraft since 2017, but to able to build with this level of rigour is a huge step forward, and we're incredibly proud of the performance our aircraft delivers."
"Our motors each provide 236kW peak power with six propulsion units on the aircraft," he adds. "That's nearly twice the power of a Model S Plaid – the most powerful Tesla there is – and yet the entire aircraft weighs less than the car."
The company did not disclose the duration of the prototype's sortie, its altitude or its flight path.
Joby unveiled the production prototype – built at the company's production facility in Marina, California – in late June, disclosing that the aircraft would be delivered to Edwards next year as part of the company's $131 million contract with the USAF's Agility Prime programme. Joby says it has already begun installing charging infrastructure at the base to support operations.
Joby has committed under its Agility Prime contract to deliver a total of nine aircraft to USAF.
"A number of aircraft that are sort of sitting behind the aircraft that we rolled off the line are also designated for Edwards," says Paul Sciarra, Joby's executive chairman. "It's really the first opportunity for us to deliver a product to a customer and have it operate in the real world as opposed to at our test facility."
Competing electric air taxi developer Archer Aviation recently landed Agility Prime contracts worth up to $142 million to deliver up to six of its in-development "Midnight" eVTOLs to USAF. Archer is poised to begin flight-testing its aircraft.
Joby says its air taxi will be the "lightest and fastest four-passenger eVTOL" on the market, and will be capable of hauling payloads of about 1,000lb (450kg). "We'll be deploying our aircraft on trips of up to 100mi (161km), making it perfectly suited for operations in urban areas," Bivert says.
The company said on 28 June that the Federal Aviation Administration had granted a special airworthiness certificate to its eVTOL, clearing it to begin flight-testing.
Joby is awaiting FAA approval of its certification plans. Like Archer, Joby intends to achieve type certification next year and fly passengers in major US cities starting in 2025.