Electric air taxi developer Joby Aviation continues burning cash as it pushes for certification and service-entry of its aircraft, reporting a loss of $286 million in the second quarter.
Compared with a $49 million loss during the same period of last year, the figure reflects higher operational costs and lower income, Joby said on 2 August.
The California start-up lost $399 million in the first half of 2023.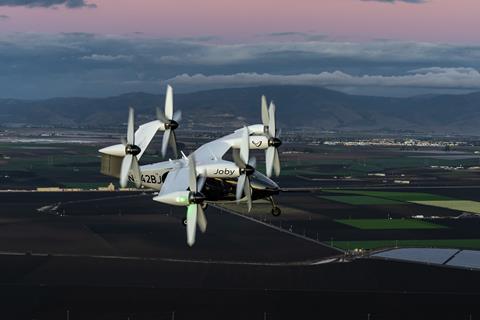 Joby said it lost $116 million from operations and $83.3 million from adjusted earnings before interest, taxes, depreciation and amortisation, "primarily reflecting employee costs associated with the development, certification and manufacturing of the aircraft".
As of 30 June, Joby held nearly $1.2 billion in cash and short-term investments – about as much as it had on the same date of 2022.
The company's cash position at the end of the second quarter includes an agreement to issue $180 million of common stock to long-term Joby investor Baillie Gifford and an $100 million investment from South Korean telecommunications giant SK Telecom.
Having enough cash on hand is a critical factor for eVTOL companies racing to certificate, produce and operate new and novel classes of aircraft, according to Sergio Cecutta of SMG Consulting.
"If you run out of cash, it doesn't matter how of an idea or how good of a product you have – you're done," he told FlightGlobal during an interview earlier this year.
He views Joby and competitor Archer Aviation as being in solid financial positions in the near term. Both companies have enough cash "as far as certification and entering to service", Cecutta says. "What makes that a little more complex is that they want to operate their own vehicle, and that is going to take significantly more cash than it does to certify an aircraft."
Joby is still evaluating potential locations to scale its manufacturing capabilities, Bevirt says. "We've had a remarkable amount of interest in hosting this facility, and we've take the opportunity to spend some time evaluating various sites to ensure we secure the very best long-term solution and incentive package."
Joby is focused on "building long-term, enduring value" for its planned air taxi operations through partnerships with Delta Air Lines and Uber, says chief financial officer Matt Field.
Joby's production prototype recently completed its first flight and will be delivered next year – along with eight other eVTOL aircraft – to Edwards Air Force Base as part of the company's $131 million Agility Prime contract with the US Air Force.