Electric air taxi start-up Joby Aviation has entered an agreement to issue $180 million of common stock to long-term Joby investor Baillie Gifford, providing a cash infusion as the company pushes to certify its aircraft.
"This offering, which is expected to close on May 5, will further bolster our balance sheet and support our operations, including future investments in capacity to accelerate production," the California-based start-up said during its 3 May quarterly earnings call.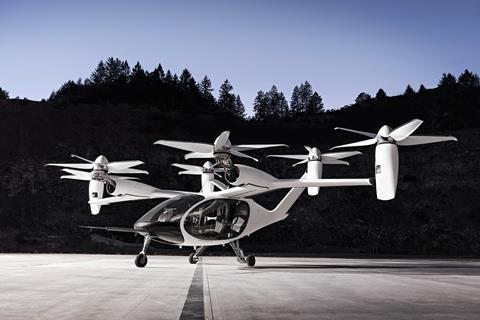 Joby lost $113.4 million during the first quarter of 2023, compared with a $62.3 million loss during the same period last year.
The electric vertical take-off and landing (eVTOL) aircraft developer reported losing $99.7 million from its operations, $17.2 million from "stock-based compensation expense" and $7 million in depreciation and amortisation during the first three months of 2023.
"The higher net loss compared with 2022 primarily reflected lower other income of $45.7 million and higher operating expenses of $5.4 million," the company says.
Joby ended the quarter with $978 million in cash, cash equivalents and short-term investments.
Investment management firm Baillie Gifford was an early investor in Joby as a private company, in addition to supporting its operations since becoming a public company in August 2021.
Paul Sciarra, Joby's executive chairman, says the $180 million cash infusion from Baillie Gifford is related to the company's partnership with the US Department of Defense.
"Prior to this investment, we felt really good about our cash position and our ability to forward invest to get ourselves to and through certification," he says.
"In light of what we think is a growing opportunity to deliver aircraft and potentially generate revenue with the DoD, we felt it prudent to add to our already-strong balance sheet through this investment," Sciarra adds. "This gives us an opportunity to scale pilot production sooner, build more aircraft and deliver those to our first set of customers, and to do that without sacrificing the revenue we need" to get through type certification with the Federal Aviation Administration.
Joby is close to entering the fourth stage of FAA certification, during which the start-up will design and test-run its certification programme with the FAA.
"The majority of our team is now heads-down focused on stage four, where we design, develop and dry-run the testing described in stage three," says Didier Papadopoulos, head of aircraft OEM. "This preparation work is absolutely critical to achieving a smooth certification process."
On 25 April, Joby disclosed a $55 million extension to its Agility Prime contract with the US Air Force (USAF) to deliver and operate up to nine of its as-yet uncertified EVTOL aircraft. The extension raises the value of Joby's contract with USAF to $131 million.
In another recent development for the San Jose-based start-up, Joby disclosed that Japan's Toyota Motor Corporation will supply the eVTOL maker with "key powertrain and actuation components" for its in-development aircraft.
Like California competitor Archer Aviation, Joby is aiming to launch operations in 2025.