Eve Air Mobility's board of directors has named Johann Bordais as the company's sole chief executive, with current co-CEOs Jerry DeMuro and Andre Stein shifting to new roles.
Currently chief executive of Embraer Services and Support, Bordais will lead Eve starting 1 September as it focuses on entry-to-service for its in-development electric vertical take-off and landing (eVTOL) aircraft, the Brazilian air taxi developer said on 31 July.
"Urban air mobility has the potential to revolutionise how people commute and travel with a direct impact on millions of lives," Bordais says. "Eve has built a skilled team in recent years to deliver an effective and sustainable new mode of transportation."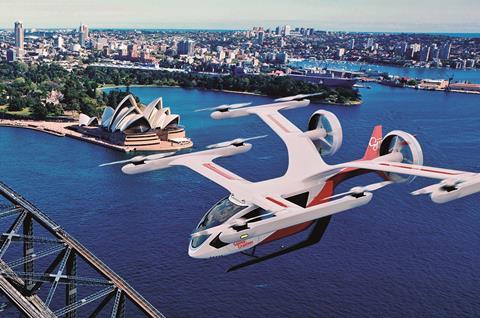 DeMuro, who joined the company as co-CEO in September 2021, becomes Eve's executive vice-president of corporate development through October to help Bordais with the transition.
Stein takes the role of chief strategy officer, based in the USA and overseeing growth, commercialisation and launch strategies with Eve's international operators.
Urban air mobility has "enormous potential in the coming years based on an efficient, zero-emissions transport proposition", says Stein, adding that he will continue to support Eve's plans to achieve type certification, enter service and scale manufacturing.
Eve inteds to assemble a prototype of its aircraft this year and begin commercial operations with its air taxis by 2026.
Both DeMuro and Stein oversaw Eve's public listing on the New York Stock Exchange in May 2022.
"Eve has made incredible progress and accomplished important milestones in the development of an eVTOL aircraft and the urban air ecosystem under the leadership of Jerry and Stein," says Luis Carlos Affonso, chairman of Eve's board, who adds that Bordais "will be an outstanding addition to Eve's team".
Embraer credits Bordais with transforming the company's aftermarket business model and turning services and support into Embraer's most profitable segment, contributing 28% of the company's total revenue in 2022.
Additionally, Eve board member Kenn Ricci has signalled his intention to resign at the end of October, to be replaced by DeMuro.
Earlier this month, Eve disclosed plans to produce its eVTOL aircraft in the Brazilian city of Taubate, where Eve majority owner Embraer has an established presence.
Taubate is about 25 miles east of Sao Jose dos Campos, home to Embraer's massive E-Jet production facility.