Premature wear of turbine components in CFM International Leap engines operated in "harsh" environments is causing higher than anticipated workload for the manufacturer's repair and overhaul network.
First disclosed in late 2021, the problem relates to the cracking of first-stage rotor blades of Leap engines that are operated in challenging environments.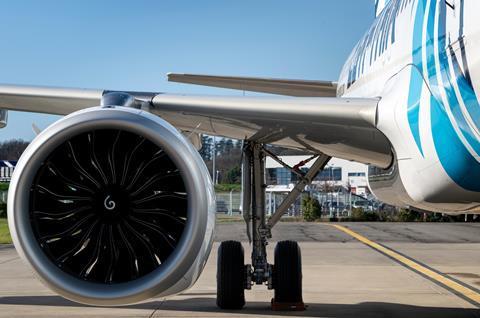 A European Union Aviation Safety Agency airworthiness directive (AD) first issued in February 2022 and subsequently modified that July, covers Leap-1A engines fitted certain stage one rotor blades that have been "operated extensively" in the Middle East and North Africa region.
Under that AD and a related service bulletin released by CFM for all Leap variants, operators are required to conduct borescope inspections of the affected parts every 150 cycles.
Briefing analysts on its full-year performance on 17 February, Olivier Andries, chief executive of Safran – a partner in the CFM joint venture alongside GE Aerospace – said the problem remains.
"The behaviour of the Leap in service is as expected in normal environments [but] I would say it is slightly more difficult in harsh environments.
"New engines are suffering a lot in harsh environments, especially the Gulf and India."
As a result, it is seeing "slightly more shop visits coming from those regions compared to our expectations" with "higher work scope" on each engine, says Andries. This, he concedes, is "a pressure" on its performance in the aftermarket.
But drawing parallels with the early days of the predecessor CFM56 powerplant, Andries says it "takes time" to fully understand how a new engine performs in operation before introducing any updates.
"We [will] learn from the in-service behaviour and take decisions in terms of improving the reliability and the time on wing of the Leap through design changes. The maturity of the engine will improve over time," he says.
Safran says it is "working with operators" to determine the root cause of the issue, which is seen on engines operating in "hot and harsh conditions" – those with high temperatures and the presence of sand or dust.
"The company has identified enhanced on-wing inspections of a specific population of engines and launched support operations to keep disruptions to a minimum," it adds.

Dominic Perry is deputy editor of Flight International but also contributes extensively to flightglobal.com. Although specialising in the coverage of the helicopter industry, he has written on most topics in aerospace – be they commercial, defence or business aviation. In addition, there has been an increasing focus on the decarbonisation of the industry and zero-emission flight initiatives.
View full Profile