Boeing could be facing more cost increases on the 787 programme after aerostructures supplier Leonardo indicated that it was seeking to follow Spirit AeroSystems' lead and renegotiate its current contract with the airframer.
Disclosing the move as he presented the Italian aerospace firm's third-quarter results on 9 November, chief executive Roberto Cingolani said he hoped to see progress on the issue by early next year.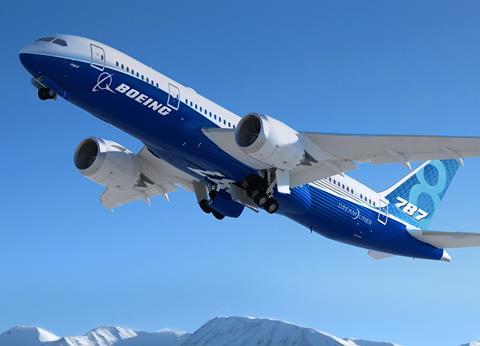 Leonardo – which produces centre fuselage sections and horizontal stabilisers for the 787 – has been emboldened by the success of fellow aerostructures supplier Spirit AeroSystems which in October secured a pricing improvement – and a cash injection – from Boeing.
Under Leonardo's present contract with Boeing, better pricing is due to kick in from shipset number 1,406, with deliveries still around 300 units shy of this total.
"We think we should also go back to Boeing and renegotiate the conditions," Cingolani says.
"We are looking to have a better alignment to the current environment of cost inflation that we are all living in and see that reflected in a new agreement with our customer," adds chief financial officer Alessandra Genco.
Leonardo's managing director for the aerostructures business Stefano Bortoli is already in contact with Boeing as it attempts to thrash out a deal.
Cingolani says Leonardo's aerostructures output is "very good compared to our competitors" and notes that "problems with yield" at its factories have been addressed following company investment.
"We are now trying to quantify the investment so we can go with precise numbers to the negotiations," he says.
Cingolani is hopeful the contract revisions can be completed "within six to eight weeks", adding: "We think we deserve them."
Aerostructures revenues for the nine months ended 30 September increased by 30% year on year to €462 million ($492 million), up from €351 million in the same period of 2022, on improved production volumes. EBITA losses also narrowed from €134 million to €127 million.
Leonardo says the division is on track to reach breakeven in 2025.
During the nine-month period, Leonardo delivered 27 fuselage shipsets and 23 stabilisers for the 787 programme, up from respective figures of 16 and nine in the same period of 2022.
Shipments to the ATR regional turboprop programme it jointly owns with Airbus also rose, to 21 fuselages from 14 the year before, while ATR itself delivered 21 aircraft in the period, up from 10 a year earlier.

Dominic Perry is deputy editor of Flight International but also contributes extensively to flightglobal.com. Although specialising in the coverage of the helicopter industry, he has written on most topics in aerospace – be they commercial, defence or business aviation. In addition, there has been an increasing focus on the decarbonisation of the industry and zero-emission flight initiatives.
View full Profile