Recently-formed regional aircraft lessor Abelo has returned to ATR for another batch of up to 20 aircraft, potentially doubling its commitment for the twin-turboprop type.
Unveiled at a Dubai air show ceremony today, the agreement – to be concluded next month – for 10 firm ATR 72-600s and 10 options adds to Abelo's existing orders for 10 of the 72-seaters and 10 examples of ATR 42-600S short take-off and landing variant placed in 2022.
Steve Gorman, Abelo chief executive, says that the recovering market for domestic and regional air travel prompted the repeat deal: "We saw that we would need to order more aircraft," he says.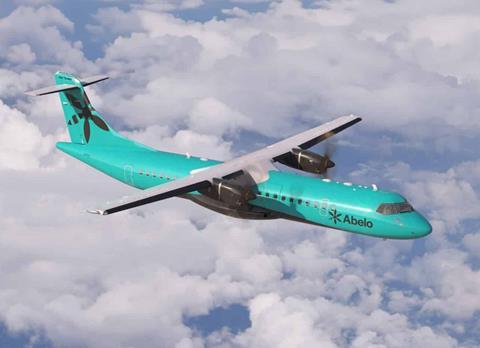 Of the initial batch of 20 aircraft, four have so far been placed – including an ATR 42-600S – and will begin delivering next month.
Including the latest batch of aircraft, Abelo holds delivery positions running until 2028. "We have secured slots for the next five years," says Gorman.
Alexis Vidal, senior vice-president commercial at ATR, says the Abelo agreements are contributing to its goal of delivering 40 aircraft this year while maintaining a book-to-bill ratio of one or above.
At the end of September, ATR had delivered 21 aircraft according to joint shareholder Leonardo.