London Southend airport operator Esken believes it is on the verge of obtaining a crucial £120 million convertible loan, and is discussing additional funding with banks and shareholders to meet its future financing requirements.
Potential investor Carlyle Global Infrastructure Oppportunity Fund is seeking "final approvals" for the loan, says Esken, which could be converted into a near-30% share in the airport.
Esken says the proposed £120 million funding would provide £100 million liquidity for the company plus £20 million ringfenced specifically for Southend airport, covering its expenditure to the end of February 2024.
The transaction depends on Esken's completing broader funding arrangements with banks and shareholders.
It says its banks have indicated conditional support for access to financing facilities, and the company is expecting to conclude discussions on a new £20 million working capital facility.
Esken is also aiming for an equity issue worth £40 million. Its largest shareholder – Toscafund, which has nearly 29% of the company – as well as board members have indicated that they intend to support an equity raise.
These combined financing efforts would enable Esken to repay outstanding bank debt and meet working capital needs.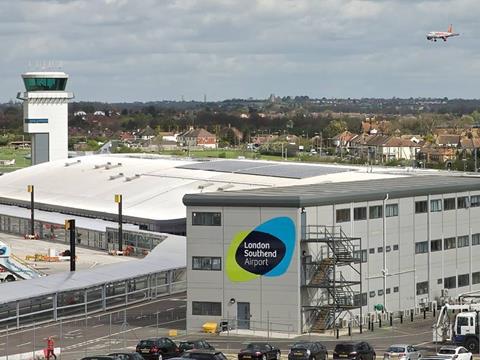 But the company, which has disclosed a £150 million pre-tax loss for the year to 28 February 2021, is also cautioning that the funding cannot be guaranteed.
Esken points out that various funding transactions it is discussing are interdependent, which increases the risk that the necessary finances will not be obtained should any of the transactions not be finalised.
While directors have a "reasonable expectation" that Esken has adequate resources to continue operating to January 2023, it says they have exercised a "very significant degree of judgement" in concluding that the company remains a going concern.
Its financing discussions include negotiating with a lender for a £125 million convertible debt instrument to repay a revolving credit facility. If this transaction is not completed, says the company, Esken would probably "need to market London Southend airport for sale".