London Luton airport remains closed to all air traffic after an extensive fire which badly damaged a multi-storey car park.
Up to 1,200 vehicles are estimated to have been in the car park when the blaze broke out at 20:47, and the escalating fire was declared a major incident by emergency services about 1h later.
"A severe fire rapidly spread through the structure and the severity of the fire has caused significant structural collapse," says Bedfordshire Fire & Rescue Service.
The service initially responded to calls about a fire involving a car on the third level of the car park.
Fifteeen rescue pumps and three aerial appliances, along with more than 100 personnel, were tackling the fire at its peak.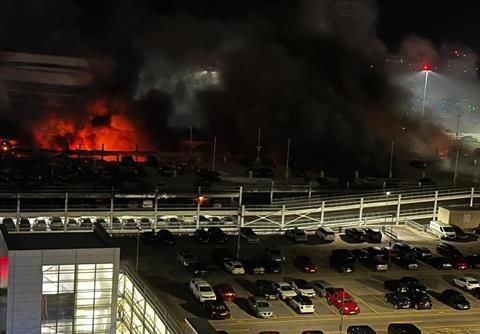 Firefighters sought to control the blaze and protect buildings, aircraft, vehicles and the airport's rapid-transit system. The Bedfordshire service was supported by other emergency units from around the region.
NOTAM information from London Luton states that the airport is "closed to all movements" at least until 14:00 UTC on 11 October.
The airport is a base for carriers including EasyJet and Wizz Air.
London Luton's operator states that the fire affected terminal car park 2, which is situated just east of the terminal building and about 400m north of the airport's single runway. The car park is relatively new, having opened in 2019.
"Our priority remains supporting the emergency services and the safety of our passengers and staff," the airport operator adds.
The fire service says up to 1,200 vehicles may have been in the car park and "subsequently damaged", adding that a full investigation will aim to determine the cause of the blaze.
"Firefighting operations are still underway as crews dampen down the area," it says, and access to the airport is "still restricted".