Travel restrictions are closing in on Southeast Asia, as Malaysia imposes a partial lockdown after seeing a recent spike in coronavirus cases.
From 18 to 31 March, citizens are restricted from leaving the country, while foreign visitors and tourists will be denied entry.
Nearly all business, government offices and schools will be shut, except for those involved in essential services such as transport.
Cirium schedules data shows that domestic routes within Malaysia, where the country's airlines have nearly 55% of the total seat capacity offered this month, will be significantly affected. Internationally, services to neighbours Indonesia, Singapore, and Thailand will be similarly affected, as they contribute 21% of capacity out of Malaysia.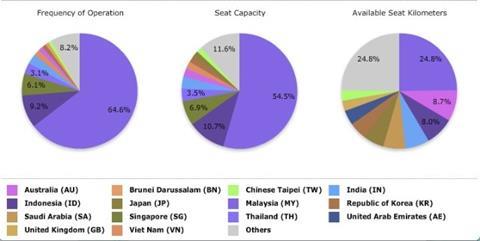 The decision will hit the five Malaysian carriers heavily, with AirAsia dominating 40% of the total seat capacity deployed this month, followed by Malaysia Airlines, Malindo Air, AirAsia X and Firefly. Given that AirAsia focuses on regional short-haul routes, the restrictions on movement and ban on foreigners will hit the low-cost operator hard.
Meanwhile, neighbouring Singapore tightened up its border restrictions on 16 March, ordering travellers from Southeast Asian countries, Japan, Switzerland or the UK to stay at their place of residence for a 14-day period upon entering the country. Additionally, visitors from Southeast Asia will have to submit a health declaration for approval before entering Singapore.
Singapore's ministry of health explains that it has seen more than a quarter of imported cases coming from its neighbours "for the purpose of seeking medical care". This, it says, imposes "a significant burden on Singapore's healthcare resources during this critical period" when it is focused on containing the spread.
These come on top of existing restrictions imposed on nationals of Iran, Italy, France, Germany, South Korea and Spain, as well as Chinese nationals from both inside and outside of Hubei province, who are not allowed to enter or transit through Singapore.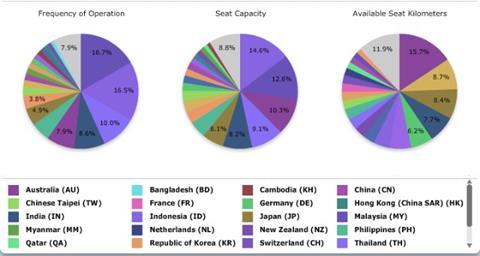 Singapore's restrictions on its neighbours will have an impact on Changi Airport, as more than 45% of its seat capacity for this month is to Southeast Asian nations. Indonesia will be the most affected country, followed by Malaysia, Thailand, and the Philippines.
Unlike Malaysia, Indonesia has ruled out a lockdown for now, choosing instead to urge its people to stay at home or reduce their public activities.
President Joko Widodo has said that any lockdown policy will have to be decided by the central government.