Airbus chief technology officer Grazia Vittadini has said that the aviation industry's stated aim of reaching carbon neutrality by 2050 had been a "pretty good problem to have" before the air transport sector and most other areas of public life were thrown into disarray by the coronavirus outbreak.
Vittadini and her counterparts at other major aerospace players have reiterated their commitment and expressed confidence that the target can be reached despite the pandemic. But all agree that there is no single "silver bullet" and multiple technological approaches must be followed to achieve the required emission reductions.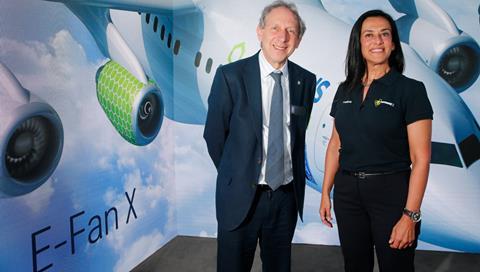 Speaking at the virtual AeroDays event on 25 November, Vittadini said that hydrogen has emerged as a potential "game changer" to replace fossil fuels, partly because of its versatility to serve as fuel for combustion engines, for conversion into electrical power – via a fuel cell, for example – or as an energy source to produce sustainable aviation fuel (SAF).
Three aircraft concepts that Airbus revealed in September as potential avenues for a planned zero-emission aircraft, which the airframer intends to have for ready service in 2035, were all based on hydrogen as power source.
Airbus needs to select the main technologies for the new aircraft by 2025 to meet the service-entry target, Vittadini says. Hydrogen would provide "nearly three times" higher energy density than fossil fuel, while the element's main emission would be water. However, Vittadini acknowledges the challenge that hydrogen needs four times more storage volume than conventional jet fuel.
She argues it is vital to pursue "more technology pathways" and, for the industry as a whole, to "act in unison" in its effort to advance environmental technologies. As part of that, she says, it is essential that SAF production and distribution capacities are being expanded for widespread employment.
MTU chief operating officer Lars Wagner, who also participated in the panel discussion, sees a future for "super-efficient" gas turbine engines. Especially for long-haul flights, the German engine subassembly manufacturer does not foresee employment of hydrogen or other alternative propulsion concepts.
Fuel efficiency of current-generation geared turbofan engines – MTU is a partner in Pratt & Whitney's PW1000G programme – could be increased 10% through incremental improvements by 2030, says Wagner. Beyond that, he sees room for another 20% efficiency improvement through more radical design changes.
In the medium- and short-haul segment, MTU believes that hydrogen will find wind employment, especially as it could be used as combustion fuel for gas turbines. On short-haul aircraft with up to 80 passengers, the manufacturer sees the possibility of using fuel cells to power electric propulsion systems.
HYDROGEN CHALLENGE
GE Aviation is unconvinced about the prospect of hydrogen as main energy source for large commercial aircraft. The US manufacturer's director advanced technology, Arjan Hegeman, describes it as "challenging" to store hydrogen on board aircraft while maintaining an "acceptable level" of capacity. He believes: "[Increased] efficiency is the name of the game."
The engine maker is preparing demonstrator flight tests with a modified, hybrid-powered turboprop in 2023-24 and is studying the possibility of distributed electrical propulsion systems on new aircraft designs beyond 2030. But for large aircraft, GE Aviation is looking at the open rotor to increase efficiency of gas turbine engines.
A next-generation open-rotor demonstrator is to be fight-tested in 2025-26, says Hegeman. Open-rotor designs – featuring counter-rotating fan blades outside a nacelle containing a gas turbine core – have been studied for decades, and GE tested such demonstrator engines during the late 1980s. But excessive noise and lower cruise speed versus conventional turbofans have been major obstacles for these designs in the past.
Hegeman says that new blade geometrics have facilitated a noise reduction below required standards with "sufficient margins", and that the new engine designs would achieve speeds "around Mach 0.8", comparable to current-generation narrowbody aircraft. If realised, open rotor engines could deliver 25% fuel burn savings, he says.
But in order to meet CO2 reduction targets, Hegemann says the aviation industry must "truly ramp up as never seen before" SAF employment.
Rolls-Royce chief technology Paul Stein, too, says that an agenda to produce and employ SAF on large-scale is "extremely important". He believes that there will be no single "magic bullet" and that developers and users must pursue different avenues to produce SAF in sufficient quantity and at an acceptable price. Rolls-Royce is exploring, among other options, the use of nuclear power to produce synthetic fuel, he notes.
Stein acknowledges higher cost of SAF versus conventional, fossil-based kerosene and suggests that Rolls-Royce has taken this into account to offset higher fuel costs through increased efficiency of its projected future UltraFan engine.
Safran chief technology officer Stephane Cueille noted during the discussion that the path to carbon neutrality is not about just developing new technology – but also to roll out the new equipment into the market. The French group estimates it will take 15 years to replace existing aircraft with new ones to achieve the 2050 target and that new equipment must therefore be available for operation from 2035.
Noting that the newest aircraft and engine developments have typically delivered 15-20% fuel burn gains over previous equipment generations, Boeing chief sustainability officer Chris Raymond said that fleet replacement with the latest equipment still represents a key step to improve efficiency across the sector. Reducing fuel consumption has "always been done" and the industry "can be proud what we have achieved", he says. But he acknowledges "we need to do more".
Raymond notes that new technologies must at least fulfil the same safety and quality standards as previous equipment generations. Technology demonstrators are therefore highly important to ensure that potential breakthrough technologies don't end up in a "valley of death" because they cannot be implemented in regular day-to-day operation.
He emphasises the importance of global collaboration between manufacturers, universities and other research institutes to develop innovations and ensure that new technologies get to a stage where they can be applied for in-service equipment.
Pointing also at the role of regulatory authorities in the development and certification of new equipment, Paul Stein says that the aviation sector "works really well as an ecosystem" of industrial players, universities, research institutes and regulatory bodies. He suggests not to perceive the industry's high engineering rigour to meet safety and quality standards as a potentially limiting factor for new technology – but one that spurs innovation and can give an edge over other sectors.
This analysis was written by Michael Gubisch, part of Cirium's London-based reporting team