Beleaguered Mitsubishi Aircraft, whose flagship SpaceJet programme is effectively frozen amid cost cutting, is reported to have slashed 95% of its employees.
Japanese broadcaster NHK, citing sources, says the job cuts will begin next April, presumably at the start of the new financial year, leaving behind a skeletal workforce of just 150 employees.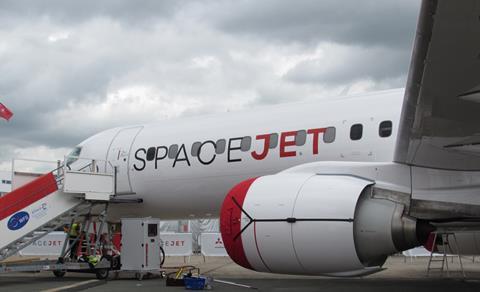 Mitsubishi Aircraft tells FlightGlobal no official announcement has been made "regarding reductions to our employee base". The airframer also said there were "opportunities for personnel to be allocated within" parent company Mitsubishi Heavy Industries (MHI), but declined to comment on specific numbers.
In late October, MHI announced that it would further cut the budget of - and put a "temporary pause" on - the SpaceJet programme, as it mulls a "possible programme restart".
While it will pause activities relating to the development of the baseline, 90-seat M90 SpaceJet variant, MHI says it will still carry on with type certification documentation work.
It is unclear if the reported job cuts will have any impact on documentation efforts.
MHI, responding to FlightGlobal's queries, reiterated the point it made in October, when announcing its medium-term plans for the troubled programme.
"It is MHI's long-term goal to expand the commercial aircraft business. However, given the current development status and market conditions, we have no choice but to temporarily pause the majority of SpaceJet activities, except for [type certification] documentation," the company states.
Mitsubishi Aircraft echoed similar sentiments, stating: "Mitsubish AIrcraft has had to re-examine its organisation and systems according to the business environment from next year onward. The decision has been made to conslidate remaining activities at our facilities in Nagoya, and we will continue to work on type certification documentation activities in Japan."
Already dealt a budget cut of 50% early this year, the SpaceJet programme will see a further reduction in capital allocation from fiscal year 2021, with MHI allocating only Y20 billion ($194 million).
This is a far cry from the group's allocated budget of around Y370 billion in its previous business plan for FY2018.
The SpaceJet programme, long plagued by delays, has been impacted by the coronavirus outbreak, which has depressed market demand.
Story updated with comments from Mitsubishi Aircraft.