ZeroAvia disclosed during the Paris air show that it has a purchase agreement for up to 100 of its hydrogen-electric engines with the UK's Monte Aircraft Leasing.
The advanced powertrain developer, which has operations in the UK and USA, said on 20 June that the deal converts its existing memorandum of understanding with Monte to firm orders. The agreement "represents an important commercial milestone with the first ZA600 build slots being secured by Monte", ZeroAvia says.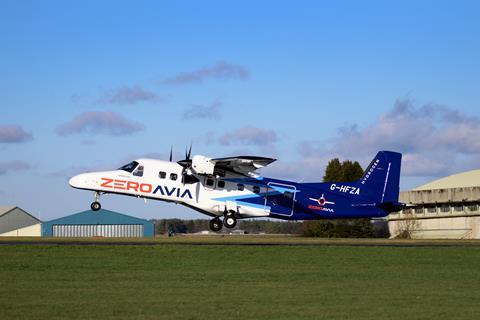 As it begins planning to build production facilities, ZeroAvia notes that a "good proportion of its initial manufacturing capacity is now under commitment" thanks to the Monte deal.
The yet-to-be-certificated ZA600 powertrain is designed for nine- to 19-seat aircraft, with the Cessna Grand Caravan planned as the "launch airframe". The company says it has completed the first phase of flight testing and that the powertrain is on track to be certificated in 2025.
"We are making enormous commercial progress, which means that operators will be able to fly lower cost, truly clean aircraft," says James Peck, chief customer officer at ZeroAvia.
The deal also strengthens Monte's position in the emerging zero-emission regional turboprop market and boosts its ability to offer operators pathways to fleet decarbonisation, the lessor says.
On the first day of the Paris air show, ZeroAvia said it has identified "clear applications" for its hydrogen-electric technology to power regional jets, such as the Bombardier CRJ series of aircraft.