The coronavirus pandemic, combined with the 737 Max grounding, could leave Boeing facing challenges more significant than it has experienced in perhaps 50 years, say some aerospace analysts.
Still, the diversification of Boeing's business should provide some cushion from commercial transport woes, they say.
"Put this all together, this could be potentially the greatest challenge facing Boeing since the early 1970s recession," says Kevin Michaels, managing director of aerospace consultancy AeroDynamic Advisory.
Michel Merluzeau, an analyst with consultancy AIR, says the pandemic "comes at the worst, worst possible time" for Boeing.
"The impact on the industry is enormous," says Merluzeau, who nonetheless remains optimistic. "Once this crisis is over, [airlines] will bring that capacity back online, and things will return to a near-normal situation."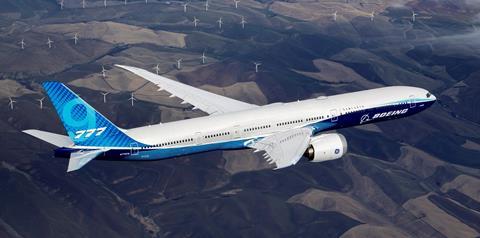 Experts note the coronavirus has placed similar pressure on Airbus. But Boeing was struggling with the 737 Max before the pandemic spurred travel bans and drove airlines to ground hundreds of aircraft.
In recent days, airlines globally have grounded or announced plans to ground what amounts to thousands of jets, including both narrowbodies and widebodies. Many governments have banned swaths of international travel.
Delta Air Lines alone will ground 300 aircraft. United Airlines will cut capacity by 50%. Norwegian will suspend 85% of flights and layoff 90% of staff. Virgin Atlantic will ground three-quarters of its fleet. EasyJet warns it might ground most its aircraft.
The list goes on and on.
The US airline industry has responded by asking the US government for $50 billion in government support, and President Trump has already said he intends to "help" carriers.
Fitch Ratings recently placed Boeing on "rating watch negative", citing the 737 Max grounding and coronavirus impacts.
And Boeing reportedly intends to draw down a nearly $14 billion loan.
Boeing did not respond to requests for comment about its financial health or whether circumstances might lead it to consider requesting government aid. However, the company did address challenges the industry is facing in a brief statement on 16 March.
"America's aerospace industry – which supports over 2.5 million jobs and 17,000 suppliers – is facing an urgent challenge resulting from the coronavirus pandemic," it says.
"The long term outlook for the industry is still strong, but until global passenger traffic resumes to normal levels, we're taking steps to manage the pressure on our business. We're leveraging all our resources to sustain our operations. Meanwhile, ready short term access to public and private liquidity will be one of the most important ways for airlines, airports, suppliers and manufacturers to bridge to recovery, and we appreciate how the Administration and Congress are engaging with all elements of the aviation industry during this difficult time."
Merluzeau adds: "The US government will not let Boeing fail. Boeing is a national security asset. Boeing is a good chunk of the US GDP".
Despite the magnitude of the crisis, Michaels suspects the coronavirus might not affect Boeing as significantly this year as it might have if the Max were not grounded.
That is because Boeing was already not delivering 737s, and the jet's supply chain had slowed. Prior to the pandemic, AeroDynamic had estimated Boeing would deliver just 90 Max in 2020.
"They had already readjusted their expectation and the supply chain is already down," Michaels says. "So, what's happening here does not necessarily have the impact that it would have on them in normal times."
Still, he and other analysts note that airline purchase contracts historically include clauses allowing airlines to cancel orders should aircraft be grounded more than one year.
Whether Max customers have such clauses in purchase contracts, and details of such clauses, remain unknown. And, downturn aside, analysts expect airlines will eventually need the thousands of Max they have on order.
Perhaps more concerning for airframers like Boeing and Airbus is fresh pressure on widebodies, a segment soft before the pandemic.
Airbus recently announced A330 production cuts, and Boeing had already planned to cut 787 production.
Analysts say more 787 or A330 production cuts are possible, as are A350 cuts.
The virus could also delay Boeing's plans to ramp production of the 777X, an aircraft the company hopes will be certificated in 2021, says Teal Group analyst Richard Aboulafia.
Merluzeau fears the air travel downturn could put "a very serious dent in the 787 business case". He suspects some carriers, particularly widebody low-cost carriers such as Norwegian, could be most impacted by falling travel demand.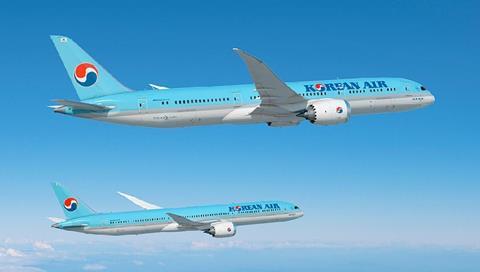 Further depressed widebody demand puts more pressure on Boeing to get the Max certificated, a milestone the company hopes to achieve by mid-year.
"Boeing is in a very, very strenuous situation," Merluzeau says.
Michaels suspects Boeing has not faced challenges so daunting since a recession around 1970. The company's headcount tumbled from 100,000 in 1967 to 40,000 in 1971, he says.
The entire industry suffered in those years, with global commercial jetliner production tumbling two-thirds in four years, from 741 in 1968 to 238 in 1972, he says.
"I'm not suggesting that's what going to happen here. But I'm suggesting it's the worst crisis since then," says Michaels.
But in the early 1970s Boeing was primarily a commercial aircraft maker.
Not anymore. Today's Boeing is diversified.
Boeing Defense, Space & Security, for instance, generated $26 billion in 2019 revenue – one-third Boeing's total, according to financial filings.
Also, defence work accounted for about half the $18 billion in revenue generated last year by Boeing Global Services, Michaels says.
"Boeing is a different business today," he says. The defence work "is not subject to the harsh winds that are about to come".
Updated with statement from Boeing.