Pratt & Whitney is "only about 50%" through a critical upgrade programme designed to improve the durability of components in its PW1100G geared turbofan (GTF), an executive at the engine maker's parent company has admitted.
Reduced time-on-wing has been a particular problem for early-build PW1100Gs - an option on the Airbus A320neo. Combined with supply chain constraints, that has forced some operators to ground aircraft due to a lack of spare engines or replacement parts.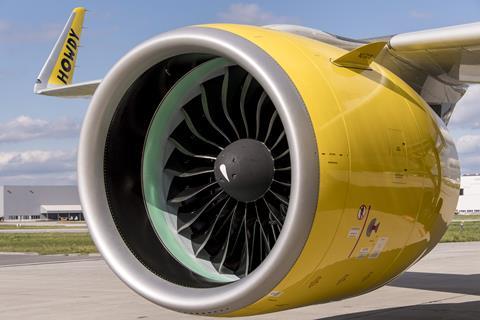 P&W has progressively inserted updates into the PW1100G since it entered service in 2016, with new engines now built to the so-called Block D standard. In-service powerplants have also received the upgrades during shop visits, but that process has not been as rapid as hoped.
Christopher Calio, chief operating officer at P&W parent Raytheon Technologies, says the firm is "running as fast as we can" to perform the Block D modifications, but admits it still has a significant population of engines to address.
"We're only about 50% of the way through the fleet in terms of those upgrades," he told analysts during a first-quarter results call on 25 April.
He blames the slow pace of the upgrade process on "part constraints and shortages [of] labour in our MRO network".
Additional MRO capacity is being brought on stream, Calio notes, which will help "accelerate" the roll-out of the Block D enhancement, which is "really aimed at the combustor hot section".
Much of the early concern about the likely durability of the GTF was focused on the engine's gearbox, but that has proved unwarranted, says Raytheon chief executive Gregory Hayes.
He says the gear itself has been "extremely reliable", without a single recorded failure in "any of the 3,000 engines or so that we've delivered."
But he concedes that "we probably didn't spend enough time" performing operational testing in harsh environments – "specifically places like India".
"That's where we've seen the lower life on the combustor. We've seen some lower life the turbine blades just because of the harsh conditions there."
Rival CFM International has detailed similar durability issues on its Leap-series powerplants when operating in the hot and dusty conditions seen in the Middle East and India.
But Hayes is convinced that lapse will not be repeated on the forthcoming GTF Advantage, the next-generation geared turbofan which will be introduced from 2024.
"It's got a lot more testing, it's got all the learnings from the existing fleet. It should be significantly more durable out there in terms of time on wing," he says.
A bottleneck for all engine manufacturers since demand returned post-pandemic has been the supply of key cast and forged components.
Although Calio sees the situation improving, with supply of the most affected parts up 30% over the final quarter of 2022, he admits this is "not to the level of flow that we need."
However, he stresses that the issue is not impacting engine deliveries. P&W is in "lockstep with Airbus on their demand for the year", he adds.

Dominic Perry is deputy editor of Flight International but also contributes extensively to flightglobal.com. Although specialising in the coverage of the helicopter industry, he has written on most topics in aerospace – be they commercial, defence or business aviation. In addition, there has been an increasing focus on the decarbonisation of the industry and zero-emission flight initiatives.
View full Profile