Slovenia's Pipistrel Aircraft, best known for its range of lightweight two-seaters, is nearing the launch of a new hydrogen fuel-cell- and battery-powered 19-seat hybrid that it hopes will revolutionise the commuter-category segment.
Dubbed the "Miniliner", the aircraft could enter service by 2030, the company says, and will offer a substantial cut in operating costs against current designs.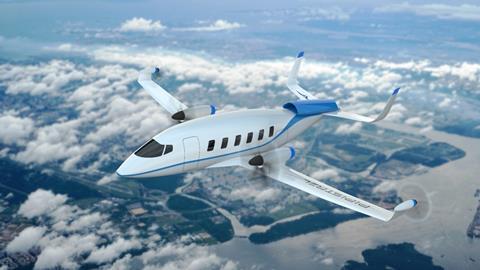 Pipstrel says the Miniliner will be able to perform short point-to-point services between cities, boosting connectivity for underserved locations, or what it calls "microfeeder" flights into bigger hubs.
Power from the fuel cells will be sufficient for most departures, but batteries are provided to boost short-field performance, allowing departures from runways down to 800m (2,620ft). This, it says, will allow access to 80% of Europe's airports.
While Pipistrel sees the optimum flight length as between 160-215nm (300-400km), the Miniliner will be able to fly for around 1,000nm on a single tank of liquid hydrogen.
"It will be able to fly three return missions before you need to replenish the hydrogen fuel," says Tine Tomazic, Pipistrel chief technical officer.
Overall, the aircraft will have around 2MW of installed power, making it "quite sporty", he says.
Operating costs should be 40% lower than current CS-23 category commuter aircraft on a per-seat basis, says Tomazic: "We want this aircraft to be a money-maker, not just cleaner than today's airplanes."
Pipistrel's participation in two EU-funded research and technology programmes, MAHEPA and Unifier – the former including flights of a hydrogen fuel-cell-powered aircraft – have helped to inform the company's design and market analysis.
"We are taking select lessons from that and putting the knowledge into an aircraft concept that we think makes sense based on how we see the market," says Tomazic.
Although other developers have already demonstrated modest range capability using hydrogen powertrains retrofitted to existing airframes, Tomazic argues that the Miniliner's clean-sheet design sets it apart.
"We are making sure the airframe has all the attributes that the powertrain and batteries need; we are building it around the best elements of the new propulsion system," he says.
"We think we will have first-mover advantages because of our understanding of the powertrain."
Three different aircraft designs are currently being evaluated, each featuring a different engine configuration, tail shape and use, or not, of canards. However, the composite wing and fuselage is the same for each design.
While details are being kept under wraps, Pipistrel says the Miniliner's main suppliers have been signed up, along with a pair of undisclosed airlines – one in France, the other in Ireland – to serve as customer advisers for the programme.
Tomazic says the optimum maximum take-off weight will be around 8,500-9,000kg (18,700-19,800lb), potentially slightly above the 8,618kg upper limit for CS-23 aircraft.
But he is hopeful that Pipistrel's relationship and experience with Europe's regulator – not least through last year's world-first certification of the all-electric Velis Electro – will enable a slight relaxation of the rules.
"Even if we are down to the category limit, it does not make or break the product," he adds.
A programme launch is likely later this year, leading to a first flight in 2028 and service entry in 2030 or 2031, says Tomazic, although that could be accelerated if additional research and development grants are received.
In any case, the company is likely to seek external funding to bring the Miniliner to market, not least to expand its production facilities in Ajdovscina, Slovenia, and Gorizia, just across the Italian border.
Pipistrel's analysis suggests there is a total market for around 1,500 aircraft in the Part 23 category; Tomazic says that "even a few dozen per year would be a good outcome".
Although Pipistrel's design and development experience is on small aircraft, Tomazic believes it will be able to make the step up to a bigger size class and to an all-new powertrain.
"Take into account that we have been present in electrification for a long time – possibly longer than most people – I think we have a pretty good understanding of where the complexities are and we are confident of how we are approaching them.
"We have always preferred our challenges bigger rather than smaller."