President Donald Trump says the US government will "protect" Boeing from the adverse effects of the coronavirus downturn, suggesting financial aid to Boeing and other aerospace companies may be part of a pending economic relief plan.
"We are looking at that," says Trump on 17 March when asked if his government intends to financially assist aerospace manufacturers like Boeing and General Electric.
"We have to protect Boeing," Trump adds. "We absolutely have to help Boeing."
He does not mention other aerospace manufactures. Neither GE Aviation, which makes turbofan engines, nor aerospace trade group Aerospace Industries Association, immediately responded requests for comment.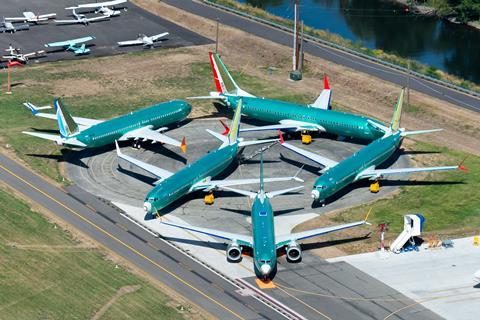 Trump's comments came the day his administration announced it will seek congressional approval for a broad aid package to individuals and to businesses in variety of sectors, including the airline industry.
"We are going big," Trump said of his proposals, which officials hope will come together quick enough to ensure aid starts flowing within two weeks.
The airlines' lobby group Airlines for America (A4A) has requested more than $58 billion for its industry, which has been hammered by flight bans and tumbling demand.
Boeing on 16 March was among a number of industries seeking in on potential government help.
The company was already struggling with the 737 Max grounding when the coronavirus outbreak started. Resulting travel bans and declines in demand have led airlines to ground huge portions of their fleets and spurred some to defer or cancel aircraft orders. Analysts suspect more deferrals and cancellations are coming.
Last week, Air Canada announced that it had cancelled 11 Max orders.
"Ready short-term access to public and private liquidity will be one of the most important ways for airlines, airports, suppliers and manufacturers to bridge to recovery," Boeing said in a statement. "Ongoing, positive discussions continue with governments and industry leaders."