While Qantas Group's domestic market share remains higher than pre-pandemic levels, resurgent rivals are eroding its dominance.
As at the end of March this year, the group — comprising Qantas, regional arm QantasLink and low-cost unit Jetstar — captured about 69% market share, down about five percentage points from December 2020.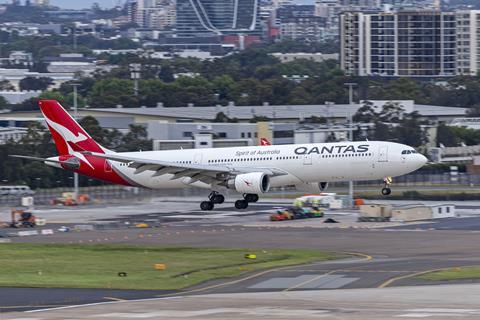 Still, this is higher than the 60% market share it held in March 2019, data from the Australian Competition and Consumer Commission's (ACCC) domestic airline competition report shows.
On domestic routes between larger cities, Virgin Australia, which exited voluntary administration under new owners Bain Capital in late 2020, saw market share climb to 33%, up around three percentage points quarter on quarter. The ACCC notes that this was still lower than the pre-pandemic 41%.
Meanwhile, Regional Express, which launched mainline domestic services in March, gained 1% market share.
The quarterly report also indicates that Australian domestic travel demand continues to swing upward.
At end-March, domestic carriers flew about 2.7 million passengers, the highest monthly figure reported in nearly a year, when the pandemic first swept across the country. Compared to March 2019, it was down about 45%, a slower decline compared to previous quarters.
The ACCC also notes that interstate travel, which recorded strong growth during the quarter, will "continue to drive recovery" in the domestic market, following the easing of state border curbs.
The 'Golden Triangle' network of Sydney, Melbourne and Brisbane were the top three routes for the quarter, mirroring pre-pandemic trends. Still, the ACCC states that capacity remains lower than 2019 levels.
SYDNEY-MELBOURNE HIGHLY COMPETITIVE, BUT SLOW TO RECOVER
On the busy Sydney-Melbourne sector, the commission notes that "growing competition…has provided significant benefits to consumers, with economy airfares falling to their lowest levels in a decade".
It attributes the fall to Rex's entry into the highly-competitive route, first in December when it started selling tickets for the route, then again in March, when its first flight took off.
However, the ACCC adds: "While the Sydney-Melbourne route had once again become Australia's busiest route, it is making a slower recovery from the pandemic than other routes."
In March, only 323,000 passengers flew on the route, representing just 43% pre-pandemic levels. The ACCC states that this was because the two cities had the "most disruptive Covid-19 outbreaks for the airline sector". Melbourne and the state of Victoria, for instance, went through three lockdowns — two of them lengthy — since 2020, while Sydney locked down in December 2020, hurting potential holiday recovery.
Furthermore, domestic recovery has been driven by "strong demand for leisure routes" — such as to Gold Coast and Sunshine Coast —and not on business travel sectors like Sydney-Melbourne.
"Despite the relatively slower recovery in demand, the airlines have been bringing back capacity onto the route. Rex's entry has contributed to some of this capacity, but most of it has been from the established airlines of Qantas, Jetstar and Virgin Australia," the ACCC adds.
The commission's report comes on the back of burgeoning domestic travel demand, which has seen Australian carriers rapidly expanding capacity and networks.
Qantas, for example, has redeployed its Boeing 787-9s, which usually operate long-haul, intercontinental routes, on domestic flights.