Swedish lessor Rockton is to acquire up to 40 of compatriot Heart Aerospace's ES-30 hybrid-electric aircraft, converting a letter of intent (LoI) for the developmental 30-seater.
Disclosing the revised agreement, Heart says Rockton has signed a firm order for 20 aircraft plus 20 options. No financial details were revealed, however. Rockton initially signed the LoI for 40 ES-30s in September 2022.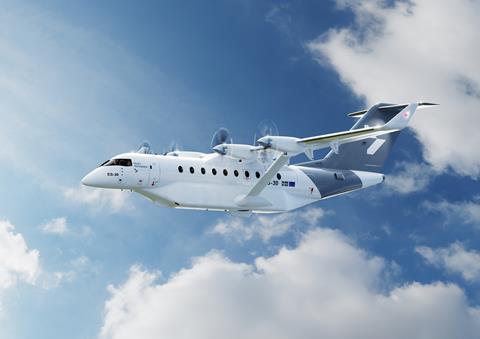 Heart now claims 250 firm orders for the ES-30, plus options and purchase rights for an additional 120 aircraft. The vast majority of these are accounted for by US carriers Mesa Airlines and United Airlines who hold a combined 200 firm orders and 100 options.
Heart also says it has accumulated letters of intent for a further 91 aircraft, suggesting the start-up has quietly racked up almost 30 undisclosed LoIs.
At the company's hangar day event last September – during which the switch in focus from the 19-seat ES-19 to the larger ES-30 was revealed – it listed 96 LoIs, including the 40 from Rockton. Since then, just one tentative deal, for six aircraft, has been announced.
With the Rockton aircraft now counted as orders or options, plus the addition of the six-unit agreement, 29 new LoIs are left unacounted for. Heart declines to reveal the identity of the customers behind these commitments ,but says they "are a mix of conversions and additions".
At the point Heart switched its development focus from the ES-19 to the ES-30 it held several LoIs for the former – including from Finnair – that it had yet to convert to the bigger model.
Heart claims a fully electric range of 108nm (200km) for the ES-30 with 30 passengers on board, or 215nm in hybrid mode. Flights of up to 430nm should also be possible if capacity is reduced to 25 people. Service entry for is targeted for 2028.

Dominic Perry is deputy editor of Flight International but also contributes extensively to flightglobal.com. Although specialising in the coverage of the helicopter industry, he has written on most topics in aerospace – be they commercial, defence or business aviation. In addition, there has been an increasing focus on the decarbonisation of the industry and zero-emission flight initiatives.