Rolls-Royce could introduce performance upgrades to the Trent XWB-97 for the Airbus A350-1000 within two to three years as the manufacturer seeks to enhance the "availability, efficiency and reliability" of its engines, according to the new head of its civil aerospace business.
Although executives are keen to stress that the propulsion specialist has yet to formally commit to an upgrade programme, it continues to validate on several test engines the next-generation components that could be used for such an effort.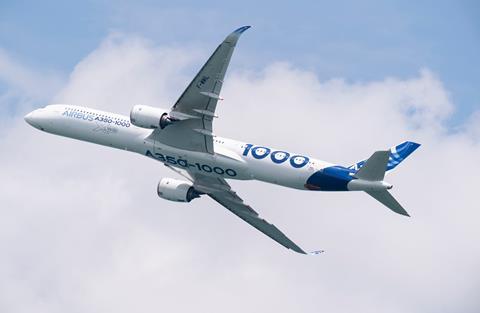 Speaking during a tour of the company's Dahlewitz, Germany site ahead of the Paris air show, Rob Watson, newly installed president of Rolls-Royce civil aerospace, said the company places "huge focus on delivering ever-more efficient engines and improving their performance in service though their life".
However, the "technology inserts" that will deliver better durability and time-on-wing will first be matured through demonstrator programmes, says Watson, highlighting the recent first runs of its UltraFan engine.
While its geared-fan architecture is clearly a major departure from Rolls-Royce's traditional three-spool widebody engine configuration, Watson stresses that the UltraFan is a "suite of technologies" it can "use to improve our products today".
Incorporated in the UltraFan are carbon-titanium fan blades, a low-emission combustor, and high-temperature materials and components. It is these in particular – ceramic matrix composite (CMC) turbine seals and nozzle guide vanes, plus high-pressure turbine blades made using its CastBond process to reduce cooling requirements – that Rolls-Royce views as having the clearest route into its current engine portfolio.
"These technologies are critical to the next generation of aerospace engines and critical for us to introduce to our current fleet to give us more reliability, more efficiency and allows us to drive availability over time," he says.
In addition to the UltraFan demonstrator, Rolls-Royce is also evaluating the high-temperature parts in its HT3 test engine – a modified Trent XWB-97.
"It is going very well so far, so we are going to take them through a full test programme and then we'll roll it out into the fleet."
Those technologies could start flowing into the Trent XWB – or other in-production engines – "over the next two to three years", says Watson.
Simon Burr, director of product development and technology, says the manufacturer intends to continue running the HT3 demonstrator this year as it seeks to further validate the performance benefits of the new components.
In his view, the lower-thrust Trent XWB-84 – which powers the A350-900 – is performing well and does not need modifications beyond those contained in the EP variant which is due to arrive in 2025.
"But as you go up in temperature and size, [an enhancement] becomes more applicable."
Burr stresses, however, there is "no commitment to put this technology into an engine until we are absolutely sure it is robust".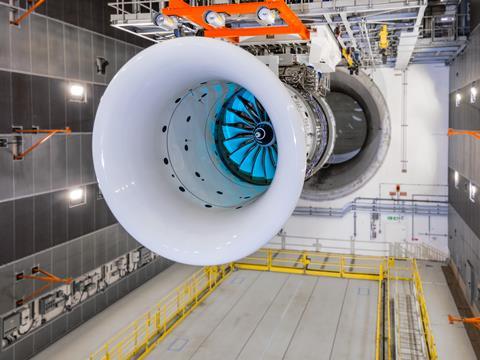 Tests of the HT3 demonstrator will include those designed to simulate operations in harsh conditions, such as sandy environments, to assess long-term durability. That marks a change in its approach to testing, he says, and is based on its experience with the Trent 1000.
Upgrades will rolled into new-build engines and will also be available for in-service powerplants during overhaul, he says.
"We are really happy with the performance of the XWB family of engines but like all engine OEMs across the industry when we are operating in hot and sandy conditions there is an impact on durability," adds Watson
A number of A350-1000 operators are from the Middle East, notably Etihad Airways and Qatar Airways.
Meanwhile, Rolls-Royce will continue to add durability improvements to the Boeing 787-powering Trent 1000.
"We are really pleased with how the [Trent 1000] is doing," says Watson. "It has had its problems earlier in its life, but it has largely recovered."
There are still "a couple of upgrades we need to deliver into this engine," he admits, with those already having been implemented to the derivative Trent 7000 for the Airbus A330neo, which have "doubled the time on wing", says Watson.
"That modification we have just taken through certification with the [US regulator] and we'll roll that in to the Trent 1000 towards the end of this year.
"In the next 18 months we'll have those engines back where customers would expect that engine to be performing," he says.
Burr says the improvements to the Trent 1000 were validated through an exhaustive test programme, during which it "thrashed an engine for over 2,500 cycles", including extensive simulation of a sustained climb and injection of sand into the powerplant to replicate real-world conditions.
"I think the testing that companies have done traditionally didn't mimic all of those conditions," he says.

Dominic Perry is deputy editor of Flight International but also contributes extensively to flightglobal.com. Although specialising in the coverage of the helicopter industry, he has written on most topics in aerospace – be they commercial, defence or business aviation. In addition, there has been an increasing focus on the decarbonisation of the industry and zero-emission flight initiatives.
View full Profile