The US Senate's proposed financial aid package to businesses affected by the coronavirus would make $150 billion in loans available to "distressed" US companies, including those in the aerospace manufacturing sector.
An official familiar with the bill, released 19 March, confirms the aerospace industry is among those eligible for loans out of the proposed $150 billion pool.
The bill, which requires approval by the House of Representatives and President Donald Trump's signature, specifically provides $58 billion in aid to airlines. But it makes no specific mention of aerospace manufacturing.
Boeing had asked the US government to provide a minimum of $60 billion in aid – funds Boeing said were needed to support it and the broader aerospace manufacturing sector.
The company did not immediately comment about the bill, saying it is reviewing the text.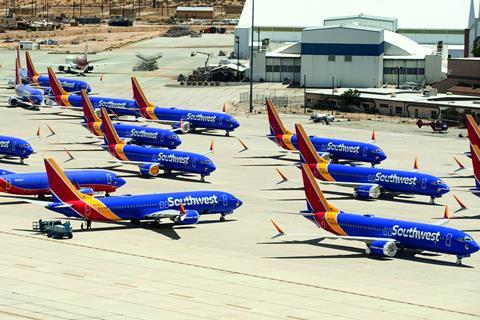 Trade group Aerospace Industries Association (AIA) also asked for assistance, though has not specified a dollar amount. Boeing and AIA say they need assistance to protect their industries and 2.5 million jobs. AIA did not respond to a request for comment.
The Senate's aid package would set aside $150 billion "to facilitate liquidity… in other distressed sectors of the US economy".
The bill would also give the US government to "participate in the gains" of businesses that take federal loans.