Singapore will expand quarantine-free travel arrangements to more countries — and ramp up arrival quotas — after putting pause on the scheme for nearly two months amid a spike in Omicron infections.
From 25 February, Singapore will roll out its Vaccinated Travel Lane (VTL) scheme to six more countries and regions, says the Civil Aviation Authority of Singapore (CAAS).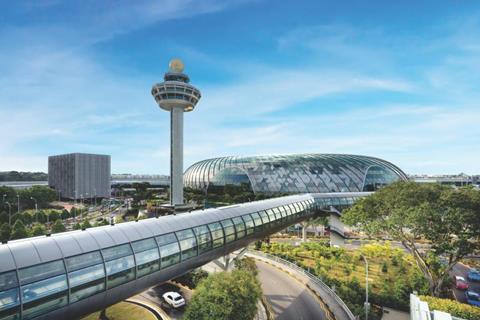 Taken together, the arrival quota under the scheme will treble from the current 5,000 to 15,000 by 4 March.
VTL travel arrangements with three Middle Eastern countries — Qatar, Saudi Arabia and the United Arab Emirates — will launch 25 February, after a two-month delay.
VTL flights from the three countries to Singapore was to have started on 6 December, but the CAAS deferred it amid the spread of the Omicron variant of the coronavirus.
Singapore will also roll out VTL flights to Hong Kong on 25 February, and cease an existing unilateral opening arrangement with the city.
The Southeast Asian city-state will also establish quarantine-free travel arrangements with two new countries — Israel and the Philippines — from 4 March.
As for the existing VTL network, which currently spans 24 countries, travel arrangements with Thailand will be expanded to include more cities beyond capital Bangkok, says the CAAS.
Alongside the expansion of the VTL scheme, the CAAS will also ease testing requirements for incoming travellers. On-arrival polymerase chain reaction (PCR) tests will be eliminated from 22 February, with travellers now required to take a supervised antigen rapid test within 24 hours of landing.
Travellers on the VTL scheme will also need not self-test for seven days after arrival, adds the CAAS.
The CAAS says the expansion will "put back on track its plans to reopen Singapore's borders safely and reclaim Singapore's position as a global air hub".
Meanwhile, Singapore's health ministry, in a separate statement, says the move to ease entry requirements comes as the country's incidence rate is comparable to many overseas destinations. It notes that imported cases were unlikely to impact local cases either.
Under the VTL scheme, all travellers must be fully-vaccinated, with short-term visitors required to apply for a travel pass to be allowed entry into the country. As at 16 February, more than 389,000 travellers have entered Singapore via the VTL scheme.
Singapore first increased the VTL quota on 26 November 2021 — from 10,000 to 15,000. Less than a month later, it froze all new ticket sales on designated VTL flights until 20 January.
From 21 January, sales resumed, but were capped at 5,000 — 50% of the allocated quota.
At the opening ceremony of this year's Singapore Airshow, deputy prime minister Heng Swee Keat reiterated his government's commitment to "safely reopen our economy and borders to the rest of the world".
Heng also hinted that the city-state intended to extend the VTL scheme "to more countries when the situation permits".