Singapore's Changi Airport Group has released – for the first time – a preview of the in-development Terminal 5, following a review which will see the mega-terminal's design "draw on lessons" from the coronavirus pandemic.
A statement from CAG says the new Terminal 5, which will be able to handle up to 50 million passengers annually when fully operational, will be "more modular" in design.
"T5 will be designed with the flexibility to operate as smaller sub-terminals when needed, with space that could be converted for use during contingencies, such as for testing operations or the segregation of high-risk passengers," says the airport operator.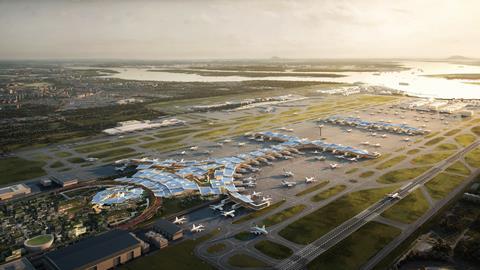 It adds that Terminal 5 will be built with infrastructure ready for the use of sustainable aviation fuels.
Another key feature will be the intensive use of automation in daily operations. Says CAG: "For example, T5 could see the deployment of autonomous vehicles to support baggage and cargo transport on the airside, as well as robotics for baggage handling."
An artist's impression of the new 1,080ha terminal shows a main terminal building with at least four different sections, as well as a smaller satellite terminal.
Plans to resume work on the terminal were announced this year, following a two-year pause during the pandemic, which decimated travel globally.
Terminal 5 plans were first announced in 2013 amid a boom in travel demand, with planning beginning a year later.
CAG intends for construction work to commence by 2024, with the terminal ready for operations by mid-2030s. It will also "designed with the flexibility to be built in two phases, in line with traffic growth", says the operator.
At an annual policy address on 21 August, Singapore prime minister Lee Hsien Loong reiterated his government's commitment to the project, stressing that "the future of aviation remains bright", with travel demand expected to recover and grow.