Singapore has signed a sustainability-focused cooperation agreement with the US transport department, while it has expanded an existing open skies agreement with the UK to include environmental protection.
Both agreements were inked on the sidelines of the 41st ICAO assembly in Montreal, where Singapore also reiterated its commitment towards developing sustainable and inclusive aviation.
The memorandum of cooperation signed with the US Department of Transport will see both countries "collaborate and exchange information" in sustainable aviation. Areas where the two parties intend to collaborate include policy and regulation, workforce transformation, as well as industry development.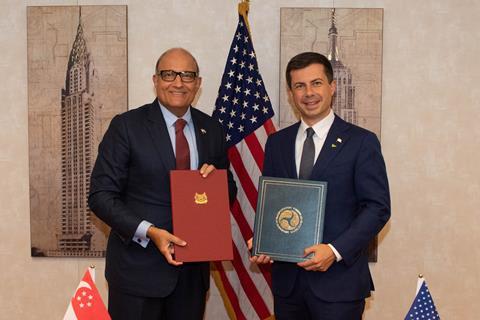 The USA and Singapore will also work on the research and development of sustainable aviation fuels (SAF), as well as SAF trials.
Both parties intend to "study the scale, costs and technical and commercial viabilities of developing 'green lanes' between Singapore and the United States, and to encourage the gradual uptake of SAF-operated flights by consumers, such as corporate and individual travellers," adds the Civil Aviation Authority of Singapore.
Singapore transport minister S Iswaran, who represented the city-state at the ICAO assembly, says: "Singapore and the United States share mutual interests in advancing aviation sustainability, particularly as climate change is a global challenge that directly affects international civil aviation. Coordinated state action and collaboration between the public and private sectors is key to drive and support collective climate action globally."
Separately, with the UK, Singapore expanded its open skies agreement to include environment protection as a new area of collaboration. It follows the setting up of a bilateral aviation steering committee between the CAAS and the UK Civil Aviation Authority on emerging green technology and decarbonisation initiatives.