Singapore will begin a year-long trial to use sustainable aviation fuels (SAF) on aircraft from 2022, following a viability study conducted earlier this year on the use of SAF in the country.
Announcing the move on 13 November, the Civil Aviation Authority of Singapore (CAAS) says it has called a Request for Proposal, to invite SAF producers and fuel suppliers "to develop and execute plans to deliver blended SAF to the Singapore Changi Airport".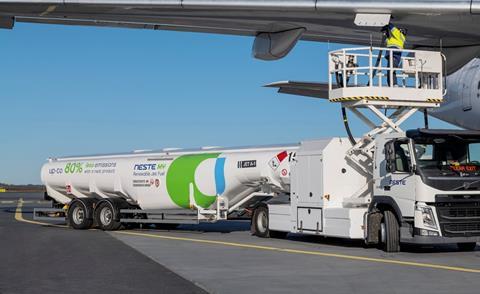 The authority will be running the pilot programme alongside flag carrier Singapore Airlines, as well as Singapore's investment company Temasek.
Director-general of the CAAS Han Kok Juan says the pilot will incorporate the blending of SAF at local facilities, certification, as well as delivery.
Han adds: "[The pilot] will provide insights on end-to-end cost components, potential pricing structures for cost recovery and support future policy considerations for SAF deployment."
SIA senior vice president for corporate planning Lee Wen Fen says: "This will support the SIA Group's commitment to achieve net zero carbon emissions by 2050, reinforcing our long-standing strategy of working towards decarbonisation and environmental sustainability across our operations."
The CAAS adds that the launch of the SAF trial coincides with the unveiling of an SAF policy toolkit to the United Nations Framework Convention on Climate Change. Singapore is among the governments that have participated in the development of the toolkit. Other governments include Costa Rica, Kenya, the Netherlands, the UAE, and the UK.