Singapore's Changi airport's passenger traffic could return to pre-pandemic levels sooner than projected, as the airport enters its "last stretch of recovery" with traffic hitting a new high in nearly three years.
The airport handled over 4.6 million passenger movements in March, or around 82% pre-pandemic levels. Aircraft movements, meanwhile, was around 81% that of March 2019 levels, according to traffic statistics from operator Changi Airport Group (CAG).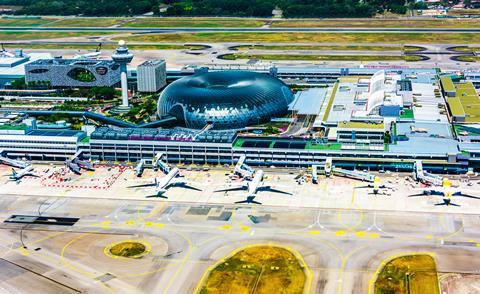 The group notes that traffic from North America, Southwest Pacific and Europe saw the strongest growth. CAG adds: "In addition, passenger flows to and from China, Hong Kong, Taiwan and Macau also showed strong recovery with traffic doubling compared to the previous quarter, driven by the progressive resumption of scheduled passenger services."
As at 1 April, the airport sees 102 airlines operate over 6,000 weekly scheduled flights.
Speaking at the Changi Airline Awards ceremony on 3 May, Singapore transport minister S Iswaran says the airport is "now poised at the last stretch of recovery".
"Based on the current trajectory, passenger traffic at Changi Airport should return to pre-Covid levels by next year, or possibly sooner," the minister states.
CAG is set to reopen the northern wing of Terminal 2 in October ahead of schedule following the completion of upgrading works. The move now means all of the airport's four terminals are operational, compared to just two terminals at the height of the pandemic.
Iswaran says the opening of the northern wing will add another 20 million passengers per annum to airport capacity, bringing the total passenger capacity higher than pre-pandemic levels, at 90 million versus 85 million passengers per annum.
Work on the airport's fifth terminal is also underway, he adds, with construction expected to begin in 2025. Once completed in the mid-2030s, the mega-terminal will be able to handle around 50 million passengers a year.