Singapore's Changi Airport reported its strongest passenger traffic in more than two years during December, but has some way to go before it reaches pre-pandemic levels.
Operational data released by operator Changi Airport Group (CAG) shows the airport handling over 4.6 million passengers in December, or about 72% of pre-pandemic volumes.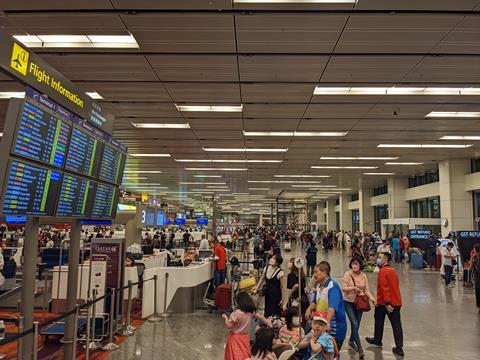 Of these, Southeast Asia accounted for the lion's share of passenger movements, with Changi handling 2 million passengers from the region.
For the full-year, Changi handled 32.2 million passengers, helped by a surge in passengers in the second half of the year, after Singapore fully swung open its borders.
While the figure is a ten-fold jump against the low numbers of 2021, CAG data shows it is only about 47% the passenger volumes seen in 2019, underscoring the airport's long path towards traffic recovery.
By region, North America traffic exceeded pre-pandemic levels, with Southwest Pacific, South Asia, and Europe each reaching two-thirds of 2019 traffic.
CAG executive vice president of air hub and cargo development Lim Ching Kiat says: "In the past two years, we strengthened our airport offerings and continued to engage our airline partners in anticipation of travel revival. Changi Airport community's efforts have paid off – the airport is now leading the Asia Pacific region in travel recovery."
The airport in 2022 welcomed services from eight new carriers, including Vietnam's Bamboo Airlines, Korean low-cost operator T'way Air, as well as cargo operator Atlas Air.
Adds Lim: "Notwithstanding near-term challenges such as global economic uncertainty and inflationary pressures, we are confident that we will be able to progressively restore Changi Airport's connectivity and traffic to pre-Covid levels."
While passenger traffic recovery gains momentum, cargo throughput fell slightly, impacted by global economic uncertainty and inflationary pressures.
In 2022, Changi Airport's airfreight throughput stood at 1.85 million tonnes, down nearly 5% year on year. December saw the sharpest slump in the year, down 17% to 153,000t.