IATA has flagged issues relating to slots and manpower among the challenges confronting Mainland Chinese carriers on international recovery.
The industry association's regional vice president for North Asia Xie Xingquan adds that flight curbs - arising from geopolitical tensions between China and the USA - have also affected the carriers' ability to ramp up trans-pacific flying, despite seeing strong demand.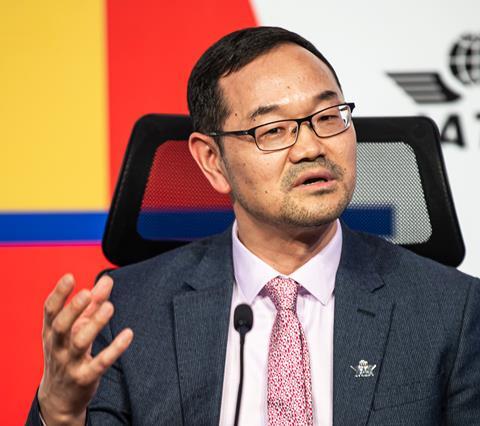 Speaking at a briefing at the IATA annual general meeting in Istanbul, Xie says that Chinese carriers "are now finding it difficult" to secure slots to a number of international markets, after having exited when China imposed strict international travel restrictions amid the pandemic.
Chinese airlines "have to wait for at least half a year" to secure slots for international flying, says Xie.
On manpower issues, he notes that shortages in maintenance and ground handling roles have led to safety incidents "to dramatically increase", especially around the handling of lithium batteries and dangerous goods.
IATA in late May notes that while domestic traffic is nearing full recovery, a combination of flight restrictions and "modest economic outlook" is hindering international traffic from recovery.
"As you know, Chinese carriers…still [hold on to] most of their fleet. This means they still have the flight capacity. I know the Mainland Chinese airlines have added more than 23% of capacity into the domestic network, so that is why fares are very competitive," says Xie.
Xie also acknowledges international recovery - especially on the trans-pacific network to North America - is ultimately dependent on bilateral negotiations.
Current flight caps, a legacy of Covid-19 restrictions, mean that carriers from the USA and Mainland China are only allowed 12 weekly flights each way, or only about 6% of pre-pandemic levels, notes Xie.
There are also reports that suggest the US transportation department is considering a ban on Chinese carriers operating to the USA, citing their ability to overfly Russia.
"This is a political issue and is very sensitive. First of all, we cannot overfly as one of the sanction measures. The main purpose of civil aviation is about connecting societies…we encourage the two sides to have more negotiations, so that the flight limitations can be lifted," he adds.