South Korean authorities have outlined a three-step plan to restore international flights into the country, along with a target to resume around half the number of flights pre-pandemic by year-end.
The Ministry of Land, Infrastructure and Transport (MOLIT) says its immediate focus will be on restoring routes "where passenger demand is expected to recover quickly". Other factors taken into consideration include visa and quarantine requirements.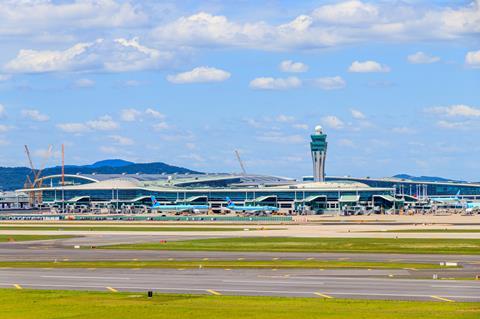 Media reports from South Korea suggest countries in the first phase include Singapore, Thailand, Europe as well as the USA.
At present, MOLIT says there are only about 420 weekly international flights into the country, representing just under 9% of pre-pandemic levels.
In the first phase, the ministry aims to increase the number of flights by 100 in May. It will also - for the first time since the pandemic hit - increase the number of flights arriving per hour, from 10 to 20, at Seoul Incheon airport, the country's main international gateway.
In the second phase, which is likely to commence from July, MOLIT hopes to gradually increase the number of international flights on a monthly basis. Starting with around 920 weekly flights in July, the number will grow to about 2,420 flights a week by November, or around 51% pre-pandemic levels.
The ministry will also scrap capacity limits for flights arriving from higher-risk countries.
In the last stage, which will happen when the country declares the coronavirus as endemic, MOLIT says "all aviation policies will be normalised".
South Korea recently battled an unprecedented spike in coronavirus infections caused by the more infectious Omicron variant. Case numbers have been tapering off for the past three weeks or so, and Seoul is mulling the easing of restrictions.